Charles "CJ" Harkness Named Director of Campus Diversity Affairs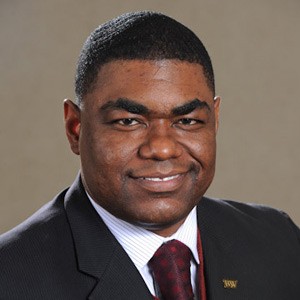 Following a national search, Charles "CJ" Harkness has been named Director of Campus Diversity Affairs at Baldwin Wallace University. His appointment began on April 9.
"In this capacity, he will bring benefits across our community in initiatives relating to the diversification of our student, faculty and staff populations; provide leadership as we optimize the impact of our current programs in multiculturalism; and help to implement the College Strategic Plan, particularly in those areas that relate to diversity," said Richard Durst, president of Baldwin Wallace University. "I also am confident that he will be an effective advocate for diversity issues and underrepresented populations as a member of the President's Cabinet and the Leadership Council."
Harkness comes to BW from Ashland University where he held positions as Director of Institutional Diversity, Director of Multicultural Student Services and Director of Student Conduct. In these roles his focus was on strategic planning, supervision of multicultural student services and student conduct, intra-institutional partnerships, discrimination complaint resolution and federal compliance and community engagement.
He also served the state with the Ohio Foundation of Independent Colleges (OFIC) and managed the Foundation's "Best Practices in Minority Recruitment and Recruitment and Retention Grants." In addition, Harkness organized the annual OFIC Fall and Spring Diversity Forums and was the original manager of the OFIC Bridges Program, for which he has served as an advisor and presenter.
Harkness earned his Bachelor of Arts degree from Mount Union College and his Master of Arts in Practical Theology degree from Ashland Theological Seminary.  He is an ordained minister and is honored to serve a campus where inclusion and diversity have been a part of the institutional culture from its inception.