Conservatory Celebration Includes $1 Million Surprise Announcement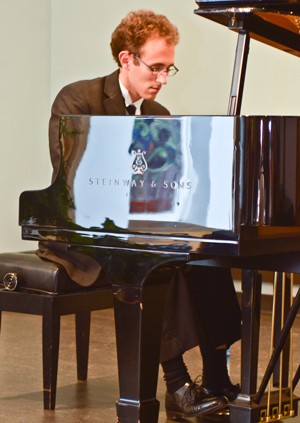 While Baldwin Wallace University supporters gathered during Homecoming Weekend to salute its many benefactors for the expansion and renovation of the new Boesel Musical Arts Center, there was still one more surprise to come.
After recognizing trustee Stephen Boesel '68, and his spouse, Jacquelyn, for their leadership support for the project that bears their name, President Richard Durst announced that Steve had decided to fund an additional $1 million endowment at BW, which will be called the Jacquelyn Jean Fynes Piano Scholarship.
The announcement came as a complete surprise to all in the audience -- including Mrs. Boesel, an accomplished pianist in her own right.
"Steve is placing Jackie's maiden name on this endowed scholarship fund as a way to focus on her individual talents at the keyboard, to lift up the importance of providing student scholarship assistance for Baldwin Wallace students and, without a doubt, as a symbol of his love for her," said Durst.
"Steve and Jackie, you have our thanks and our gratitude ... but most of all, we give you our hearts," added Durst. "You've brightened and lifted our spirit. Thank you from every one of us."

Also receiving special recognition during the evening were Elizabeth Swailes '65, also a BW trustee whose challenge gift boosted the project, provided a wing in the new center and two additional faculty offices, and Arline Kadel '36, who sang in the first four BW Bach Festivals and whose support made the new music hall possible for BW's five vocal ensembles.
Related links: Celebrating Philanthropy