BW To Offer NE Ohio's Only Baccalaureate Software Engineering Major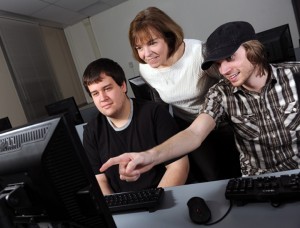 Baldwin Wallace University has received approval from the Ohio Board of Regents to offer Northeast Ohio's only baccalaureate major in software engineering, a field that is projected to experience rapid job growth.
Current Degree Options Lag Behind Projected Gains in Computer Software Engineering Jobs
The Bureau for Labor Statistics forecast says, "Employment of computer software engineers is expected to increase by 32 percent from 2008-2018, which is much faster than the average for all occupations." The new BW major will help close the gap between the high demand for these specially trained graduates and the relatively small number of bachelor's degree programs available.
Cleveland is one of the fastest growing technology regions in the United States and yet there is no bachelor's degree major in software engineering offered in Northeast Ohio. Currently, Ohio's only other bachelor's degree in software engineering is offered by Miami University. The lack of properly trained software engineers is often cited as a root cause of outsourcing of employment to countries such as India and China. 
Chuck Rotuno, President & CEO of OEConnection, a leading software provider to the Automotive and Heavy-Duty Truck industries, helped develop the criteria for the major. "OEConnection, along with the entire technology sector in Northeast Ohio, welcomes the addition of quality software engineering education and training. We want to congratulate BW not only for offering this much-needed undergraduate degree, but also for collaborating with leading software companies in the area to develop a program that will meet the growing needs of the region and the technology industry," Rotuno said.
Software Engineering Requires Distinctive Training
BW Math and Computer Science Chair Jodi Tims says the software engineering major will differ from the more broad computer science degree by focusing students on the application of programming skills in the real world, empowering them to contribute to the development of very large, highly complex software systems involving teams of developers over many months or even years.
"Successfully performing in that type of environment requires an understanding of how to analyze, design, implement, test, and deploy these large scale systems and that is not taught in the programming courses of a typical computer science program," Dr. Tims says.
Program Design Informed By Technology Employers and Accreditation Standards
BW's math and computer science faculty developed the new major in collaboration with an advisory board representing Northeast Ohio technology leaders Acumen Solutions, Hyland Software and OEConnection.  Architects of the BW program paid careful attention to the accreditation standards of ABET (Accreditation Board for Engineering and Technology) and the curricular recommendations of the Association for Computing Machinery, the leading professional organization in computing. 
The software engineering major will be available to BW students beginning in the fall of 2012. For more information, contact BW's Math & Computer Science Department at 440-826-2117.