Supportive Programs Help Post 9/11 Veterans Clear the Path to a College Education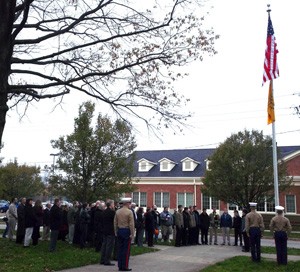 During a tour in Iraq as a U.S. Marine Corps Reserve combat engineer, Tim Oldani, of Grafton, Ohio, coolly swept dangerous routes for landmines, IEDs and booby-traps. But back at home, Oldani found navigating the "minefield" on the path to higher education and a new career intimidating.
"As a veteran, you exit an organization where most daily decisions are made for you," he says. "So, then you come out and it's hard to be autonomous. The most veteran-friendly colleges facilitate every step of the process."
Team Approach to Nationally Recognized Veterans Services
At Baldwin Wallace University, a "Veterans Support Team," comprised of staff in various campus offices, like admission, financial aid and academic advising, now serves as a point of contact for the more than 100 veterans currently enrolled in undergraduate and graduate programs. The team approach, which included special staff training, was part of BW's multi-pronged response to the 2009 Post 9/11 GI Bill.
"BW has been recognized as a Yellow Ribbon school by the U.S. Department of Veterans Affairs and has been named a Military Friendly School by G.I. Jobs magazine, which puts us in the top 15% of schools nationwide," says Nancy Jirousek, Veterans Support Team Coordinator and Director of Adult and Continuing Education. "But we continue to work to enhance the services that our growing population of veterans need to ensure academic success."
Student Veteran Surveys Guide Best Practices
More than two-thirds of BW's military students attend full time and utilize the GI Bill or other education benefits. Jirousek says the University began surveying the veteran student population four years ago to determine their needs and identify areas for improvement in services. "We also researched other college veterans' programs, along with the American Council on Education (ACE) recommendations for "best practices" for creating a military-friendly school," she adds.
The results impress veterans like Oldani, who's now on track to earn a BA in marketing from BW in 2013. Oldani says the creation of a supportive campus environment is a boon to veterans who may struggle with the initial transition back into civilian life. "I didn't have it too easy when I got back. I didn't know what I wanted to do. I really isolated myself from family and friends," he recalls. "I was in limbo and didn't want anything to do with anybody. When I got into a vet center, it really helped."
BW VETS - Veterans Engaged Through Service - Brings Student Soldiers Together
Oldani, who works as outreach coordinator for the Parma Veterans Center, praises BW's effort to create a caring community through VETS (Veterans Engaged Through Service). The organization holds regular "Community Hour" meetings for student veterans, sponsors an annual Veterans Day celebration on campus and plans service projects and social events. VETS has plans to expand the area around BW's V-12 monument to include a memorial garden commemorating the military units who studied at BW during World War II.
Jourosek says the veterans at BW forge an instant connection, even though they are a diverse group. "Our student warriors attend in the day and evening, in both undergraduate and graduate programs, and their average age is 33. We have active duty, active reserve, or reserve experience, representing every branch of the military."