First Ever Baldwin Wallace Player Heads for the "Big Dance" of College Table Tennis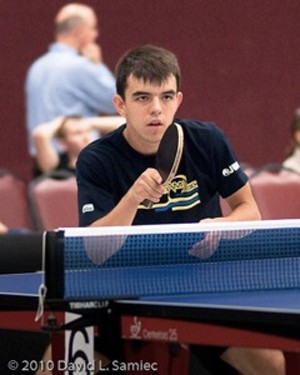 Strongsville native Keith Pech will be the first representative of Baldwin Wallace University to make the College Table Tennis National Championships, held in Plano, Texas in April.
This is not rec room Ping-Pong, but the fast-moving Olympic sport that features fancy spins, 70-mile per-hour slams and steely strategy. Currently, about 150 colleges and universities in North America field NCTTA teams. In Plano, the best college table tennis players from 40 different schools will battle for national titles in singles, doubles and team events, April 13-15. BW is the only school in Northeast Ohio to have a paddler at this year's nationals, and only one other Ohio institution-- Ohio State-- is represented in the tournament.
Pech, who trains at Strongsville Table Tennis, is seeded 25 out of 76 players in the men's singles division. He started a table tennis club team at BW when he arrived on campus last year. His women's team qualified for nationals, but couldn't make the trip.
Discovered His Sport at a Young Age
The BW sophomore says he discovered table tennis when he was 11 years old. "We had an old table hidden in one of our dark closets, which my brother and I happened to find one day," he says. "After much pleading with my dad, (David Pech) we finally took it out and set it up. At first I wasn't very good, but my dad, having played in college, knew a few tricks and understood the basics of spin. Whatever he knew, we learned. "
Eventually, Pech and his younger brother, Seth, began playing weekly at a table tennis club in downtown Cleveland. "One night, we were playing, and an older gentleman, with a heavy Russian accent, asked to talk to our father. We took him to our dad and he explained that he could coach us to be professional players. His name was Valeriy Elnatonov. He invited us to his club in Cleveland Heights where we began private coaching and the rest is history."
Internationally Ranked Player and Multi-Talented Student
Pech is currently the USATT #1 ranked under 21 player in Ohio, 3rd at any age, and holds national and international rankings in the sport.
At BW, he is double majoring in Sustainability and International Business, with a German minor. Pech will put into practice what he's learned so far in BW's sustainability program this summer during a stint working at his family's coffee company in Panama. His  assignment is to assess the sustainable practices of the company.
Keith Pech is sponsored by Juic and Paddle Palace.

About NCTTA
The National Collegiate Table Tennis Association (NCTTA) is a non-profit organization established exclusively for promoting the sport of table tennis at the college level. As the national governing body for college table tennis in the United States and Canada, NCTTA organizes intercollegiate competition throughout North America.www.nctta.org. For more information, visit the College Table Tennis Championships website or contact Cissy Aberg at the Plano Convention & Visitors Bureau, (972) 941-5849.
About USA Table Tennis
Headquartered in Colorado Springs, USATT is the national organizing body for table tennis in the United States, serving 9,000+ members and nearly 300 clubs. USATT sanctions 200+ events a year including the US Open and US Nationals. USATT is affiliated with the International Table Tennis Federation (ITTF), as well as the United States Olympic Committee (USOC). www.usatt.org & tabletennis.teamusa.org