Sustainability Plan Clinic Offers Grant-funded Services to Area Businesses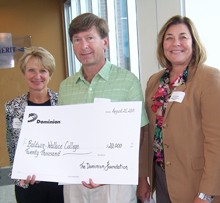 The Baldwin Wallace University Sustainability Plan Clinic has received a $20,000 grant from the Dominion Foundation to fund green services for business clients in Cleveland's "urban core." The clinic's specially trained student-faculty consultant teams help business owners throughout the region integrate sustainable practices into their operations. The goal is to boost the so-called "triple bottom line:" people, profit and planet.

"This grant will enable us to offer support to small firms and entrepreneurs in the City of Cleveland who want to foster business development, job creation and growth through sustainable practices," said Lynn Schulte, director of BW's Sustainability Plan Clinic.
Seeking Clients with Green Goals
Schulte said the Sustainability Plan Clinic is currently seeking prospective clients who fit the criteria of the grant funding, in addition to interested businesses outside the city. Clinic projects might involve energy or waste audits, a competitive comparison study or government regulatory research. With student consultants playing key roles in the process, the clinic also fulfills BW's commitment to experiential learning that applies classroom learning in the real world.
Student consultants, both at the undergraduate and graduate levels, are chosen based on educational background, passion for sustainable practices and communication skills. A lead consultant, selected from faculty and local organizations dedicated to helping other business owners, offers significant input to help the student consultants and the business owner throughout the process.
The Cleveland Foundation initially funded the Sustainability Plan Clinic in August 2010. Learn more at www.bw.edu/academics/bus/acad/spc/.
Pictured above with Dominion Foundation grant award, left to right: Annie Heidersbach, BW's director of Corporate and Foundation Relations; David Krueger, director of the Institute for Sustainable Business Practices; and Lynn Schulte, director of the Sustainability Plan Clinic.