BW Team Wins First Place in Entrepreneurship Competition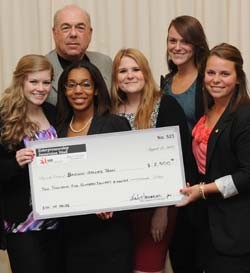 A team of five BW students created a new business concept that earned them first place at a competition sponsored by the Entrepreneurship Education Consortium.
The students include Le-Anna Miller (public relations major); Julia Kilkenny (arts management/studio art); Courtney Mizwa (arts management/art history); Melissa Horvath (marketing/management) and Kelly Wolff (marketing).
The BW team placed first over teams from The University of Akron, Ashland University, Case Western Reserve University, Hiram College, John Carroll University, Lake Erie College and Kent State University.
After the awards ceremony, many of the judges actively engaged in new business creation offered their assistance to the BW team in moving forward with the business concept. The concept is a revolutionary system for the women's beauty industry that impacts the method of distribution. The group plans to launch it in a few years.
The competition is part of "Entrepreneurship Immersion Week" and was sponsored by the Entrepreneurship Education Consortium. It focused on business ideas, innovation and creativity.