Aspiring Teachers at BW, Partner Schools Embrace New Technology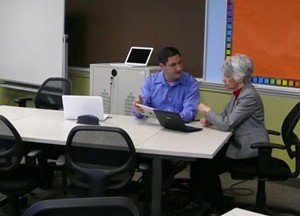 The curled pages of a well-worn copy of To Kill A Mockingbird appear to be a mismatched companion to the sleek new iPad on the desk of a Euclid High School English student. But, Angelica Meggitt, a Baldwin Wallace University middle education major from Amherst, is at ease instructing the class to use an iPad application called, Puppet Pals, to act out and record scenes from the classic book.
"I absolutely love it," Meggitt says of the technology she's integrating into her field experience. "It engages the students so quickly. They see technology and they're interested already." 
eTech Ohio Grant Funds Tech Tools & Model Classroom 

Meggitt and other aspiring teachers at Baldwin Wallace University are benefiting from a $100,000 e-Tech Ohio grant-funded program that began at BW this fall. The grant supported a new technology-rich model classroom at BW. It also provided matching technology, including iPads, iPods, Macbooks, Netbooks and audience response "clickers," for three partner school districts — Bedford, Euclid and Lakewood — where field experience follows on-campus training.
"So what they learn and the equipment on which they learn it are duplicated when they go into the field to work in our partner schools," said Dr. Karen Kaye, Chair of the Division of Education.
Kaye said the new approach is also content, rather than technology, driven. "Students are learning about the technology at the very same time that they're preparing to use the technology in their lessons. The old model was to put tech up front in a course and hope that they could integrate it later on."
"A combination of replicating that technology and starting with the content really makes for a powerful mix for the student coming to Baldwin Wallace," said John DiGennaro, BW's Director of Education Technology. Meggitt came into the program with no experience using the iPad or the other tech tools. "Now I can say, I'm totally comfortable using technology," she said.
Advance Connection for Students and Field Supervisors
DiGennaro said new tech tools also connect BW students to their field supervisors much sooner. "We use an open source course management program called MOODLE so that weeks before the field experience takes place, our students are able to communicate with their supervising teachers and submit lesson plans for feedback and review."
"That really helped with our rapport and preparation," said Meggitt of her advance MOODLE communication with Euclid English teacher James Harmon. 
"Real Revolution" Engages Students in Learning
Harmon, who's also an Apple Distinguished Educator and BW adjunct instructor, has test score data to back up his strong advocacy for technology in the classroom. "For the students, it's about engagement," he said. "Anything we can do to get them to pay more attention in class and get them to focus is going to improve not only their score on 'the test' but their future. In English, that's reading, writing, speaking and listening and these kinds of tools really help them with that."
Harmon said Meggitt's lesson in Puppet Pals fostered a student "transaction with the text," which "is one of the things we look for in reading. We want them to interact with that text; we want them to have a conversation with it."
Meggitt agrees. "I'm witnessing it (technology) make a difference in the classroom."
BW Pressing to Expand the Pilot; 'Prepare Students for Their Future, Not Our Past'
"Our real goal is to migrate the technology into the hands of the young people so that it becomes a learning tool, instead of a teaching tool," said Kaye. "That's where the real revolution is-- when the young people pick up the technology that they were practically born with and find they can use it to enhance their learning; then the teacher becomes the facilitator and guide rather than the lecturer."
Kaye is eager to grow the pilot program. "We want to expand this to many more of our classes, grade levels and grade bands. We want to go deeper into our partner districts and even add districts before we're done."
"This is where the students are," Kaye said. "Whether we use the technology or not, they're going to use it and we become more and more irrelevant to them if we don't engage in their world. As Daniel Pink says, 'We have to prepare our students for their future, not our past.'"