Problem Guy, Problem Prof. For Ed Meyer, it's a Title of Honor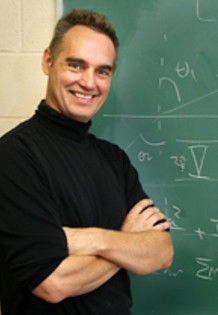 Mention Ed Meyer's name around the Baldwin Wallace campus and the response may very well be that he's the 'problem guy.' 
Whether it's puzzles, cards, blocks or complex mathematical equations, the physics professor from Berea has made a name for himself both on and off campus.  His specialty is problem solving and the bigger, the challenge the better.
"My parents were in their mid-20s when they raised six children," he began.  "Unlike some parents who let their children win at games, they would completely destroy us. Because of this, we learned from our mistakes and became better players."

Today, he uses his talents to teach others how to problem solve. He speaks at conferences, conducts summer camps and offers programs to people of all ages. "Whether you're a toddler, a teen or senior citizen, thinking hard to solve problems builds the brain and maintains mental health... and it can be a lot of fun."

Calculus Woes...Not Your Fault
Last week, Meyer began a six-part series titled 'Calculus for Everyone.'  The free program, held on campus on consecutive Tuesdays from 7:00 to 7:50 pm. in the Center for Innovation & Growth (CIG), attracted over 120 people of all ages.  Central to the theme of the event was the premise that if a person took calculus in high school and struggled, it wasn't his or her fault.

"A lot of calculus classes focus on abstract proofs and formal definitions.  This might be fine if they were training future math professors, but a typical first-year calculus student just needs to know how calculus can be used to solve problems.  Many times students get so bogged down by the complex language of formal calculus that they drop out and change their major."

Promoting the Importance of "Problem" Students
Beyond calculus, Meyer is focusing his attention on a Problem Solving Institute he is running from June 20-24 at BW. Twenty-one students from across the Greater Cleveland area will be participating.
"The goal of the Institute is to provide intellectually curious students between the ages of 12 and 17 with opportunities to develop the students' critical thinking and problem solving skills," said Meyer. "We'll do this by challenging them with the most difficult problems that the human mind has devised."
At the college level, he introduced a puzzle-solving class in 2001 that became a hit. The class, which is Meyer's favorite, teaches students of all majors how to solve puzzles and develop critical thinking skills. By the end of the semester, each student must complete a Rubik's Cube without help in under five minutes.
"Problem solving is a skill for life. That's why I strive to instill it in others," he stated. "The toys and games we buy our children as well as the high school and college courses they take help them develop the skills and insights they'll need to succeed in the workplace. For people like me, problem solving is fun. For others, maybe it's not so much. But fun or not, in today's society we need people who have the ability to strategize and work through difficulties. It's a lifelong skill."