BW Premieres First-Ever In Repertory Productions of La Boheme, Rent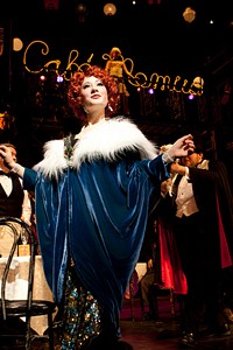 Baldwin Wallace University is making its mark in theatre history by premiering its ground-breaking, in repertory productions of La Boheme by Giacomo Puccini and Rent by Jonathan Larson on Feb. 15-27 at the Kleist Center for Art & Drama, 95 E. Bagley Rd., Berea.  
This exciting event brings to fruition the 15-year dream of director Victoria Bussert and showcases the splendor of the world's first-ever in repertory productions of these two shows.
National Media Attention
An ambitious endeavor that has attracted local and national media attention, BW's La Boheme and Rent include a cast of 70 students from the College's renowned music theatre and voice programs. These dynamic students, some of whom have already established professional contacts in New York and beyond, bring to the stage powerful voices and exceptional talent.
Rent is based on the story of La Boheme, a tale of struggling young artists facing poverty and the dangers of living life on the edge.
"To see them back-to-back is amazing. Most people who know La Boheme haven't seen Rent and most people who are familiar with Rent haven't seen La Boheme. Now people can see and appreciate the parallels of these two productions," noted Bussert, director of the music theatre program at BW.
"The idea came to me shortly after Jonathan Larson's Tony award-winning Rent premiered in New York in 1996," explained Bussert, whose career has earned national attention for professional success as well as nurturing young talent who have gone on to grace the stages of Broadway and London.
"I wanted to produce Rent and La Boheme in repertory ever since I came to BW to direct the music theatre program 15 years ago. But I had to wait nearly 14 years for the production rights for Rent to become available," she stated.
Stunning Similarities that Span Decades Apart
"The parallels between these two productions are extraordinary," Bussert said. "Part of the fun of doing them in repertory was to build on those parallels and then add layers of intrigue and nuances that would interest the audience. We wanted people who came to see both shows to leave here amazed, entertained and enlightened about these two outstanding composers who created these wonderful works."
"We updated our La Boheme to take place in Paris in the 1930s. Rent takes place in New York's East Village in the 1990s," she explained. "But these time periods weren't so far apart, so decided to weave characters from one production into the other. For example, Musetta, who appears in La Boheme, reappears as an elderly woman in Rent. And the coat worn by Colline in La Boheme later appears as the second-hand coat for Collins in Rent."
Artistic Guidance, Masterful Direction
Bussert, who is directing both shows, credits the shows' success to 15 months of pre-production and five months of rehearsals, as well as to the dedicated support of staff and students.
"This project provides a unique opportunity for our undergraduate vocal and instrumental musicians who would ordinarily not be exposed to this repertoire in an undergraduate-only setting," said BW Conservatory of Music Director Peter Landgren. "We are very proud of the collaborative effort it took to produce these two shows."
Bussert brought to the productions years of professional experience. She directed La Boheme for Piedmont Opera and Madame Butterfly for Cleveland Opera, among others. Her music theatre credits include regional, off-Broadway and national tours. She also is on the Board of Directors for the National Alliance of Music Theatres.
Constantine Kitsopoulos, guest conductor for La Boheme, has built an international reputation spanning opera, symphony and musical theatre. The music director of the Queens Symphony Orchestra, he also is the general director of Chatham Opera, which he founded in 2005. He has guest conducted the Baltimore, Detroit and San Francisco symphonies as well as the Blossom Festival Orchestra. He has conducted opera in the U.S. and in China and was the conductor of the highly acclaimed Broadway production of La Boheme as well as the 2008 Tony-nominated musical, A Catered Affair.
"It is a fortuitous opportunity for our students to have Constantine's level of expertise," noted Bussert. "Likewise, we are pleased with our selection for Rent. We looked to the up-and-coming talent of BW junior Ryan Garrett for musical direction." 
Garrett, who is primarily self-taught, won the San Antonio Young Composers Competition in 2008. He credits BW for his success. Since being here, he has been music director for several productions and has already networked with influential people in New York.
Also sharing their expertise for these two productions are BW's Gregory Daniels, Jeff Herrmann and Charlotte Yetman. Daniels, who is new to the College this year, has extensive experience as a choreographer for both theatre and film. Likewise, Herrmann, who is chair of the Department of Theatre and Dance, has a well-established reputation in lighting and set design. Under his supervision, a shared set between the two shows can be transformed from one production to the other in two hours. Also lending her talent to the shows is Yetman, associate professor of theater. She spent months overseeing the design and production of costumes for everyone in the show.
Tickets Still Available

While tickets are selling quickly and some shows are nearly sold out, there are still tickets available.

Rent and La Boheme are alternating on week nights at 7:30 p.m. During the weekends, both shows are being performed; one at 2 p.m. and the other at 7:30 p.m. 
The weekday production schedule is as follows:
Rent will be performed February 15, 17, 18, 22, 24 and 25 at 7:30 p.m.
La Boheme will be performed February 16 and 23 at 7:30 p.m.
The weekend schedule is:
Saturday, Feb. 19, Rent, 2 p.m. and La Boheme 7:30 p.m.
Sunday, Feb. 20, La Boheme at 2 p.m. and Rent at 7:30 p.m.
Saturday, Feb. 26, La Boheme at 2 p.m. and Rent at 7:30 p.m.
Sunday, Feb. 27, La Boheme at 2 p.m. and Rent at 7:30 p.m.
A series of preshow talks with prominent BW and community representatives will be held one hour prior to each performance. They will spotlight various aspects of the show to help spectators better understand and appreciate the production. The schedule of speakers is available online.
Tickets may be reserved by calling the BW Theatre Box Office at 440-826-2240. Box office hours are noon-5 p.m., Monday through Friday. 


Ticket Prices:
$25 (general admission, single ticket)
$45 (Saturday/Sunday- one ticket for both shows on same day)
$20 (senior citizens ages 62 and older)
$20 (students from other schools having a valid school ID)