Dramatic Move of Two Homes Fulfills Past Promise, Supports Master Plan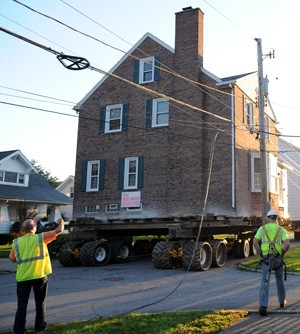 Two residential houses in the heart of the Baldwin Wallace University campus were relocated to a perimeter neighborhood over the weekend, fulfilling a decades-old promise that BW leaders made to the Berea community.
"This move makes good on a commitment by the College to invest in and strengthen the adjacent neighborhood, and it allows the College to move forward on Master Plan improvements to the center of campus," said George Richard, assistant vice president and director of College Relations. "Both the city of Berea and BW recognize that our future successes are tied together."
Dramatic Process Captures Attention
Friday, Oct. 7 into Saturday, Oct. 8, a contractor hired by BW moved two privately owned homes on the eastern end of Jacob Street to College-owned lots at the corner of Beech and Liberty streets. Portions of Beech and Jacob streets were closed during the process while curious neighbors, including students, lined the street with cameras in hand.
The journey of the two structures to their new lots on Beech Street also captured the attention of the news media, including local television stations and the Cleveland Plain-Dealer.
Home Relocation is Part of Campus Master Plan
The move is part of an initial investment in BW's 10-year Master Plan, which includes more green space in the center of campus and the current construction of a Welcome Center adjacent to the Strosacker Hall student union. Parking for the Welcome Center will be added to the area as well. Under the plan, a third Jacob Street home will be moved to Eastland Road at a later date.
In addition to their new residential addresses, the relocated homes will end up with improvements that will make them more comfortable and sound structures in the future.