New Innovation and Entrepreneurship Major Teaches Start-up Business Skills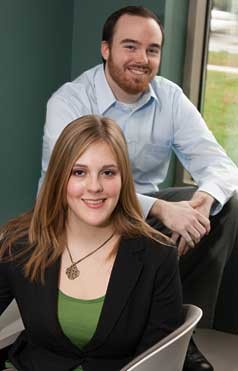 Baldwin Wallace University is offering a new major in innovation and entrepreneurship that provides students with the practical experiences and coursework that can teach them how to build a successful start-up business or non-profit organization.
Students interested in the program, which is being offered starting fall semester 2011, will select a primary major in the social sciences, physical sciences, humanities, health and physical education and/or business. The innovation and entrepreneurship program will serve as their second major.
Through the two studies, students will learn how to innovate and create new enterprises that are both market-driven as well as fulfill their own personal passion. Students will graduate with a double major and an impressive set of practical experiences and skills sought by today's employers.
Employers seek strategic, creative thinkers
"Today's challenging and ever-changing business environment has placed a high demand on graduates who are creative, innovative and entrepreneurial thinkers," said Ven Ochaya, Ph.D., program co-director and director of the MBA in Entrepreneurship and the George Herzog Chair in Free Enterprise.
"Whether it's for an existing organization or a new business venture, there is a need for strategic thinkers with a creative mindset and a passion for problem-solving. Graduates with these skills and mindset are the ones who either get hired or go on to create their own opportunities because they have the conceptual, analytical and creative problem-solving techniques valued by employers," he continued.
"Our goal is to give students the process, knowledge and practical experiences that can help them one day turn their individual ideas and passion into opportunity...and that opportunity into economic or personal success," he added.
Student-focused major bridging coursework, practical experiences
Political science department chair Tom Sutton, Ph.D., who worked with liberal arts and business faculty to design the new major, serves as co-director with Ochaya. "Innovation and entrepreneurship require passion and commitment, which is why this major has the unique requirement of a first major in a student's field of interest," said Sutton. "The six credits of field experience - internships, mentoring, and even starting an organization - help students experience the realities of innovation and entrepreneurship." Ochaya said that although innovation and entrepreneurship is being offered as a new major at Baldwin Wallace, the College has established itself as a leader in those areas throughout northeast Ohio. He cited the Center for Innovation and Growth, the Sustainability Plan Clinic, the Business Clinic, and Students in Free Enterprise, among other programs, as being student-focused initiatives that bridge classroom studies with real-world opportunities.
The innovation and entrepreneurship major includes field studies, personal interviews with successful entrepreneurs and consultant opportunities designed to stimulate entrepreneurial thinking and creative, real-world problem-solving. In addition, it incorporates a capstone project seminar that can help students build a powerful career portfolio they can use to impress potential employers, venture capitalists or graduate school personnel.
For more information about Baldwin Wallace's innovation and entrepreneurship major, contact Ochaya at vochaya@bw.edu or (440) 826-2391 or Thomas Sutton at tsutton@bw.edu or (440) 826-2460.