"Farmer Jackets" Growing Local, Organic Food for BW and Berea Tables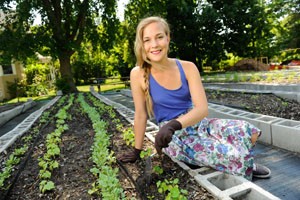 On a recent cold and rainy Saturday, 25 members of the Baldwin Wallace community gathered in a small corner of north campus off 5th Street. With 600 cinder blocks and 32 yards of "worm dirt" in tow, the group started to build BW's own campus garden, a project that began with big ideas and an even bigger determination to make a difference.
Parma native Rebecca Newbould, a senior at BW, began discussing the idea in the faculty Sustainability Committee at the end of the 2011 spring term. Rebecca, who describes herself as always needing "to be on go mode," wanted to teach not only the BW community, but also the surrounding area of Berea, the importance of "composting, sustainable initiatives, and local food" through a healthy local community garden.
Idea Catches Fire Quickly
What began as an idea grew quickly as Rebecca worked to create an organization that would achieve the goals of the garden. With 44 students and faculty members on board, Farmer Jackets – named for BW's Yellow Jacket mascot – was born.
The new organization began to think of ways in which to utilize outside resources. They began to meet with various people and companies, including BW faculty and alumni, who agreed to help oversee the garden. Farmers and other experts advised them how to maintain the garden without the harmful effects of pesticides and fertilizers, or if necessary, use organic fertilizers.
Harvesting Donations Key to Sustaining the Project
After deciding what to grow – tomatoes, veggies, strawberries, edible flowers and herbs – early planting began in the campus greenhouse. At the same time, the Student Government agreed to charter Farmer Jackets, but it was up to the Rebecca and crew to find sponsors and donors who would support the cause. The needs included equipment, a composter for Lang Hall, and rain barrels.
An initial donation of discretionary funds from the student body President and Vice President allowed for the Farmer Jackets to cover the cost of seeds, some equipment, and materials. However, with 10-15 rain barrels ranging from $1,000-$1,500 on the shopping list, they needed to find higher-level sources of funding. The Oatey Company donated Mystic Rain Diverters, while Rebecca succeeded in winning a grant from the Burning River Foundation to complete the rainwater system.
"The Burning River Foundation grant allowed us to fund a solar power drip irrigation system that will include solar panels generating energy to power the pumps connected to the hose lines, and cisterns connected to two nearby houses to collect the water," Rebecca explains. "This is a sustainable solution to meet our excessive water needs." 
"In the end, we estimated that we received $8-10,000 worth of donations in seed, worm dirt, concrete blocks, irrigation equipment and more," said Rebecca. "I'm so grateful to the individuals and companies that stepped up to support us."
To cover additional costs, including the steep price tag for a dining hall composter, Rebecca devised a Funding Strategy Plan, which included donations, grants, and profits from produce sales. 
Connecting to Campus and Community
"The head of food service at BW enthusiastically agreed to purchase food from Farmer Jackets and integrate it into campus dining options," Rebecca said.
The funding plan also allowed for the establishment of Farmer Jackets positions tied to independent studies, internships, and service learning. Internships would allow for the garden to be cared for during the summer, and establish it as a site to conduct research on sustainable agricultural techniques. Academic credit would also be given to anyone in an executive position.
In April, following 8 hours of labor provided by BW's Buildings and Grounds workers, a small corner on the north side of campus was prepped and the Farmer Jackets got their start, spending that cold Saturday outdoors working hard to create their garden.
What Rebecca hopes more than anything to accomplish is to increase "awareness and educational opportunities for the campus and community on the importance of local food and storm water management," as well as encourage students to start more projects at Baldwin Wallace. She also hopes to bridge the gap between the campus community and the community of Berea, encouraging anyone who wants to get involved.
What's Next for the Farmer Jackets?
Rebecca hopes that once the garden begins to harvest, Farmer Jackets will be able to open a low cost farmer's market. "The community connection is an important piece of the project," she said. "We want to provide good, affordable, and organic food to our neighbors, and, at the same time, share what we've learned about the type of plants that grow best and our closed loop rainwater system. It's another way BW can bridge the disconnect that too often exists between the campus and the surrounding town."
For Rebecca and the Farmer Jackets, this community garden is about more than just a place for students to plant vegetables. It's a learning experience. It's a teaching tool for the entire community to understand the importance of sustainability and rainwater. Beyond that, it is bringing together many different people for a common goal: keeping a local garden alive and thriving.