Work Begins On Welcome Center Honoring Dick and Karen Durst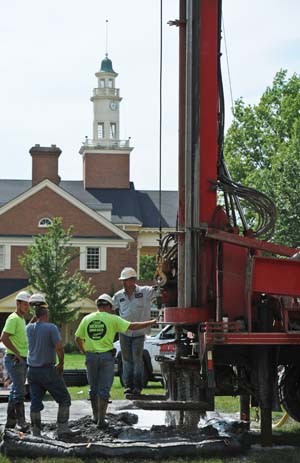 Work is underway on a $3 million building that will centralize activity for visiting, prospective students at Baldwin Wallace University.
The 11,000-square-foot Richard and Karen Durst Welcome Center is expected to open in the heart of the campus in August of 2012.
The construction along East Grand Street near Tressel Street kicked off this month with drilling to create a geothermal well field. The Welcome Center is the eighth BW building on campus to utilize the sustainable technology that draws on constant temperatures deep underground for efficient, lower cost heating and cooling.
Susan Dileno, BW's vice president of enrollment management, said the building itself also will incorporate the mission, values and history of the institution. "Our goal is to create a welcoming environment for campus visitors in a prime location that provides easy access to BW facilities and allows prospective families to experience the surrounding student life activity," she said.
Current enrollment operations are based in the Bonds Administration Building at the southeastern edge of the campus. "This new Welcome Center will serve as a gateway to connect students, families and others with the incredible resources that BW has to offer,"  Dileno said.
The Georgian-style building, part of BW's 10-year Master Plan guiding campus development, was funded through donations given by individual members of the College Board of Trustees. The donors designated their gifts to fund construction of the Welcome Center and to name it in honor of retiring College President Dick Durst and his wife Karen. Durst is stepping down at the end of the 2011-2012 academic year after six years at the helm.