Innovation & Entrepreneurship at BW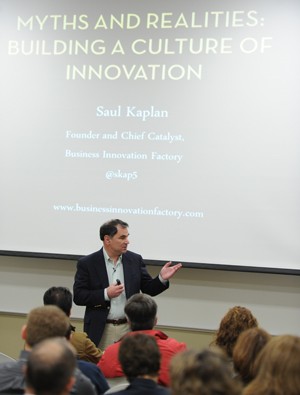 Turn passion into opportunity and build opportunity into success. A variety of programs inject innovative, entrepreneurial thinking and skills across the BW campus and throughout the Northeast Ohio business community.
The Center for Innovation & Growth (CIG)
Through the Center for Innovation & Growth, students learn how to compete in a turbulent economy and to create social and economic value. In addition to infusing the spirit of entrepreneurship in students of every major, CIG works to ignite the region's economy by partnering with companies and organizations in Northeast Ohio. Both goals come together in CIG Growth Projects, where CIG Faculty Fellows and CIG Student Fellows help organizations develop innovative approaches to their growth challenges.
MBA in Entrepreneurship
BW's MBA in Entrepreneurship develops entrepreneurial potential through our distinctive combination of theory and practical application. Students learn to focus on innovative value-based solutions, develop creative problem-solving skills and see change as an opportunity. Hands-on experience includes field studies, personal interviews with successful entrepreneurs, and consulting for individuals creating new ventures.  
Innovation & Entrepreneurship Undergraduate Major/Minor
Today's challenging and ever-changing business environment needs idea-generators, people who are creative, strategic thinkers with a passion for problem-solving. BW instills the mindset and skill set to succeed with a major or minor in Innovation & Entrepreneurship.
The Business Clinic at Baldwin Wallace University
The BW Business Clinic supports small business owners, new business entrepreneurs and not-for-profit boards and/or executive directors. The Clinic's primary goal is to support and coach clients through the development of a business plan. The clinic offers other services, including a feasibility study for a start-up business idea or review of an existing business plan. 

The Institute for Sustainable Business Practices
& The Sustainability Plan Clinic
Boosting the triple bottom line: people, planet, profit. The Institute for Sustainable Business Practice (ISBP) offers business consulting services, peer-to-peer sharing for business managers, and educational programs to benefit the region. The Institute's Sustainability Plan Clinic (SPC) offers consulting service for regional business owners and entrepreneurs who are interested in implementing sustainability practices that foster tangible results, including job creation and growth. 
Enactus
A head for business. A heart for the world. Students develop and apply entrepreneurial skills while changing the world. Enactus is a global, non-profit organization that involves highly dedicated student teams in business projects that improve the standard of living for millions. When BW Enactus students traveled to Mexico, they took the entrepreneurial philosophy with them, helping the people in a remote village establish a candle-making industry.