Celebrating 50 Years...Acclaimed Football Team Honored at Homecoming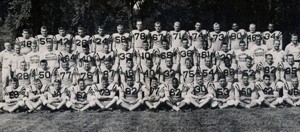 As a team, they made their mark 50 years ago when they became BW's first undefeated football team. On Saturday, Oct. 15, the College celebrated their success as part of Homecoming.
A talented group, the players excelled both then and now. Under the leadership of legendary coach Lee Tressel, the team made its mark on the field. Later, they went on to industrious careers in business, education and with civic organizations.
Bill Lacey, co-captain of the 1961 team, become the president of Ralston Purina Foods and a BW trustee. Guard/linebacker Obie Bender, also a co-captain, mentored countless athletes and students as a BW officer for 37 years. He also helped the PGA develop the precursor of its First Tee program for urban youths.
Tom Goosby played for the Washington Redskins and Cleveland Browns before becoming an administrator at The University of Akron.
Bill Kelso, a distinguished archeologist, once escorted the queen of England to his excavations at the site of the original Jamestown settlement. His work at this site has been called the most important archaeological dig in the U.S.
Several teammates had impressive careers in education. Larry Shinn spent 18 years as president of Berea College in Kentucky. Terry Krivak, former superintendent of the Berea City School District, also made substantial contributions in education. Bob Fisher dedicated his career to Baldwin Wallace, serving as an educator and baseball and football coach for nearly four decades.
Other players opted for civic leadership. Among them was Ernie Prince, former president of the Urban League of Westchester (N.Y.) Urban League.
Both on and off the field, these men and others made their mark. Some were All-American in football. But beyond the gridiron, they were clearly All-BW.