Eight Years in the Making: First BW Scholars Graduate in May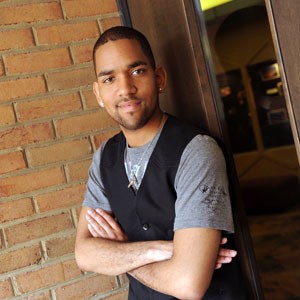 Days, nights, weekends. It was total commitment. Now after spending four years at high school followed by four years at Baldwin Wallace, the first BW Scholars are graduating on May 8.
Their accomplishment brings to fruition a program rooted in academics, mentoring and personal/professional development.

For BW Scholar Calvin Hulittle, the sky's the limit...literally. In May he will start a career as a flight attendant with CommutAir before eventually deciding on a location in which to attend law school. He hopes that through his travels he will gain insight into different parts of the country.

His counterpart in the Scholars program, Marlin Broner, also has career plans that are beginning to gel. He already has a salaried position lined up, but he is hoping to put his criminal justice major to use as a U.S. marshal, police officer or probation officer. 

A quest in self awareness
As the first graduates of the BW Scholars program, Hulittle and Broner are more than a statistic about beating the odds. 

Most certainly, in comparison to their peers at their alma mater high schools of Martin Luther King and Lincoln West, Hulittle and Broner did succeed. They ranked among the 34 percent of students from the Cleveland Metropolitan Schools who graduated from high school. 

But more important than being defined as members of an at-risk group who beat the odds of graduating from high school yet alone college, Hulittle and Broner endured the challenges that come from being in a program that is time consuming and at times mentally and physically demanding.

Within themselves, they found the determination, effort and focus to stay committed to the program; not easy tasks to hold onto during the turbulent teenage years.

Gaining confidence, skills, support
An initiative that began in 2003 for African-American male students who were identified as being at-risk for graduation, the program gave participants the confidence, skills and knowledge to pursue their education. The teens were expected to commit to the program, earn a high school diploma and enroll at two-year or four-year institution of high education.

Nominated by their middle school teachers and counselors, the teenage boys received developmental, social and academic support through the program. They met for after-school study sessions, Saturday test-preparation assistance, community service and leadership activities. In the summer they lived at BW and took classes. Their mentor, advocate and program administrator was Ladonna Norris, director of the BW Scholars. 

An opportunity to "push myself"
Self-described as reserved but outgoing, Hulittle said he always aspired to attend college. He was on the honor roll at high school and was encouraged by his family. Once on campus, he made his mark through participation in social organizations like Night on the Town and faith-oriented music groups like Voices of Praise gospel choir and anewLIFE Productions. In addition, he worked for residence life, academic custodial, and with Norris in mentoring the next group of BW Scholars (who will graduate from high school this year).
"The program helped me grow in my abilities and to push myself," said Hulittle. "We were held to high standards. But the program's outreach went beyond academics and included personal and family issues as well. It felt like a family. Being with the other guys in the program was a bonding experience.  We'd look out for each other and wanted everyone to succeed.
"Coming to BW was my first step into adulthood. It was a time of independence, but it was challenging," he noted. "To press through college has been tough."
"It felt like home"
Balancing college and a work schedule of 35-40 hours a week isn't easy for Broner, but the experience taught him skills in time management and self-motivation. Throughout his years at BW, he has been involved in a variety of co-curricular activities, among them being on the freshman football team, a lifeguard, a referee and participant in intramural sports, and a member of the psychology and society/criminal justice clubs. In addition, he has been an intern.
Coming to BW, he said, "felt like home." He noted that the Scholars program was especially challenging during high school because he transferred from Martin Luther King to Lincoln West High School and worked numerous hours. He credits Norris for always "going the extra mile" to help him. "She was very influential and kindhearted."
Through the program, Broner said he learned the importance of helping others. At his job, he tries to be a mentor to the teens who work there. He also has helped Norris with the current group of BW Scholars in high school. He has served as a tutor for both math and science for several of the young men.
Successful program that continues to evolve
In addition to Hulittle and Broner, three Scholars are enrolled at BW and are expected to graduate next year. Five others are attending universities and eight are attending or have graduated from community college. Two have joined the military and one who attended BW is taking classes part time and attending police academy. Of the remaining Scholars, two have completed training programs and six are employed. Twenty-nine of the original 33 young men have earned a high school diploma.
A second cohort that began in fall 2007 enrolled 31 participants in the BW Scholars program. All of them have been promoted to 12th grade and are expected to earn a high school diploma by August.
"There are so many young men with potential who face barriers to their success that they are unable to overcome," stated Norris. "An important part of my role is to help to eliminate some of those barriers and distractions so they can develop their skills and talents. It is not an easy program because they commit a lot of time and the bar is set very high," but they all meet and exceed it. I'm proud of their achievements and look forward to the others' future success."