BW Earns Funding To Support Entrepreneurs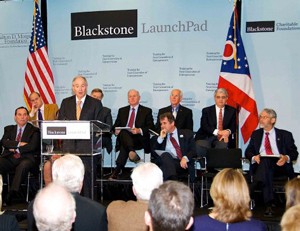 Baldwin Wallace University is one of four Ohio colleges selected to share in $3.2 million "LaunchPad" funding from the The Blackstone Charitable Foundation and Burton D. Morgan Foundation.
The LaunchPad program is designed to train the next generation of entrepreneurs in Northeast Ohio, with a goal of creating as many as 3,000 new jobs over the next five years.
The grants -- to Baldwin Wallace University, Case Western Reserve University, Kent State University and Lorain County Community College  -- represent an expansion of Blackstone LaunchPad, a groundbreaking initiative that gives college students and alumni the skills, knowledge and guidance to start new companies. Blackstone LaunchPad replicates and implements a program developed at the University of Miami in 2008, which has generated 65 startup ventures, 120 new jobs and drawn nearly 2,000 student participants. Blackstone LaunchPad programs will be up and running in Northeast Ohio early next year (2012).
Investment in Institutions that Foster Entrepreneurship
Funding for the program is made possible through The Blackstone Charitable Foundation's $50 million, five-year Entrepreneurship Initiative and The Burton D. Morgan Foundation's commitment to invest in organizations and institutions that foster entrepreneurship in Northeast Ohio. Influenced by the urgent need for job growth in the U.S., The Blackstone Charitable Foundation seeks to support innovative projects and catalytic ideas that can accelerate startups, job growth and economic activity.
Blackstone LaunchPad is an innovative program that presents entrepreneurship as a viable career path and offers students, faculty and alumni concrete tools and guidance to transform ideas into thriving businesses. Blackstone LaunchPad is open to all students, regardless of major, and engages local entrepreneurs to mentor students.
"We're thrilled to be selected by The Blackstone Charitable Foundation and The Burton D. Morgan Foundation and to partner with our sister institutions to bring this exciting economic development program to Northeast Ohio," said BW President Richard Durst. "Blackstone LaunchPad will build on the distinctive entrepreneurial programs already offered at Baldwin Wallace University and through our Center for Innovation & Growth. This is another superb resource as we teach students across our campus how to turn their passions into opportunities and those opportunities into real, thriving businesses."
Early LaunchPad Experiences Garner Praise, Spur Expansion
In 2010, The Blackstone Charitable Foundation brought the LaunchPad model to Walsh College and Wayne State University in Detroit -- an area struggling from the contraction of its predominant industry. After nine months, 319 students are involved in the program with 110 having completed initial venture proposals. Based on the early success of the Miami and Detroit programs, President Obama's "Startup America Initiative" recently acknowledged LaunchPad, and The Blackstone Charitable Foundation made a commitment to expand the program to five new regions over the next five years.
Northeast Ohio was chosen as the next region for a Blackstone LaunchPad because of its critical need for new jobs and its dedication to supporting entrepreneurship, particularly at the collegiate level.
"Our economy needs the kind of immediate, fast-growth activity that only comes from entrepreneurs," said Blackstone's Chairman and CEO, Stephen A. Schwarzman. "Fostering a new generation of entrepreneurs is critical to America's recovery, which is why we are investing in Blackstone LaunchPad to help young entrepreneurs harness their talents and transform creative ideas in to viable companies."
BW's Partnership Means Expanded Support for Student Startups
As partners in implementing Blackstone LaunchPad in Northeast Ohio, Baldwin Wallace University and the three other institutions will expand existing entrepreneurship and support programming, and offer students access to an extensive network of mentors, experts and services. The four educational partners will be strategically linked to facilitate administrative oversight and venture coaching. Collectively, the four campuses reach more than 70,000 students. The Northeast Ohio LaunchPad has the potential to create 150 businesses over the next 5 years and generate thousands of jobs in the process.
"Northeast Ohio has made great progress reinventing itself by returning to its entrepreneurial roots," said Deborah D. Hoover, President and CEO of the Burton D. Morgan Foundation. "Blackstone LaunchPad will fill a gap by linking fledgling entrepreneurs to practical tools and experienced mentors to champion novel business ideas through venture formation and ultimately into the marketplace."