New Bike Co-op Strives to Take BW, Berea for a Ride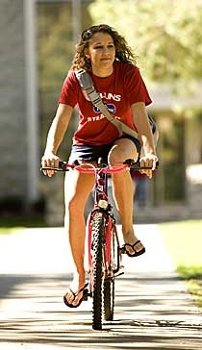 With the price of gasoline skyrocketing, it's no wonder the Baldwin Wallace community is making strides in breaking out of the "cycle" of driving cars on campus.
Now more than ever, bicycles can be seen throughout campus as students, faculty and staff embrace wellness and a concern for the environment. This year twice as many students as anticipated brought bikes to campus, creating the need to add racks.
In response to the growing trend, a new initiative has been introduced that will have big implications for the campus community.
The Baldwin Wallace University Bike Cooperative opened its door on Saturday, April 9. Located behind 378 Front St., the facility is part of a large-scale project that includes bike rentals (for an hour, semester or year), sales of new and used parts, community fund-raising events and other engagement activities.
Making Sustainability, Wellness a Priority
One of several sustainability initiatives on campus, the Bike Co-op encourages participants to get involved.
"With the sustainability movement in full gear on campuses across the nation, co-ops are becoming more and more common," said Bike Co-op Shop Manager Ashton Cortright, a business administration 3/2 accounting graduate student who is spearheading BW's program.
"Over the past year or so I have seen a huge increase in the number of bikes on campus. Not only is riding a bike fun, it is a really quick way to get to class and is a healthy alternative to driving," she noted.

Bridging BW, Berea
A major component of the co-op will be to foster ties between the campus community and the residents of Berea.

One way this will be achieved is through Social Rides. Participants will depart from the BW Bike Shop and travel to local businesses. Other trips will journey through the Cleveland Metroparks North Rocky River trail to Lakewood and the Lake to Lake trail in Middleburg Heights.

During these rides, co-op volunteers will help participants learn proper biking techniques and traffic skills.

Bike Registration Round-ups will be another important community event sponsored by the co-op. Partnering with the Berea Police Department, BW volunteers will register local bikes with identification stickers and ownership forms that will be kept on file at the co-op.  These registration events will deter bike theft in the Berea community and give bike owners a security net if their bike is lost or stolen.

Future plans to increase community visibility will involve the Berea Children's Home and the Berea School District. These programs will promote bike safety among children and teens.
Cortright went on to say that Berea is an ideal place to bike because it has wonderful bike lanes on Front Street and the Metroparks. Starting the co-op was just a way to get people to think about biking instead of driving and to explore life outside of campus.
For more information about the co-op, contact Ashton Cortright at BWbikecoop@gmail.com.