Arts Management Students Score Highly Competitive National Internships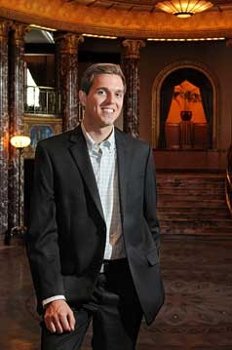 Arts management students at Baldwin Wallace University recently scored some of the nation's most competitive internships: The Cleveland Orchestra, Central City Opera, and Pittsburgh Civic Light Opera.
The arts management program at BW is one of approximately 35 undergraduate programs in the nation recognized by the Association of Arts Administration Educators.
The field of arts management has been historically reserved for study at the graduate level, however BW has been pioneering arts management on the undergraduate level for over 30 years.
With graduates having successful careers with arts-focused organizations across the country, the Baldwin Wallace arts management program has grown considerably in the last 10 years and is increasing annually.
Many students are attracted to the program after starting in an arts or business major and recognizing the competitive edge an arts management credential can add to their future career options.
BW Students Rise Above Stiff Competition
Cory Isler '12, from Massillon, Ohio, majored in music with a minor in marketing. He earned a spot in the Cleveland Orchestra's Education and Community Programs Department through the highly competitive Cleveland Foundation Summer Internship program.
Three hundred applicants applied for this program. As part of his paid internship, Isler planned conferences, prepared program materials for education concerts, and worked with youth ensembles.
Jake Sinatra '12, from Jamestown, N.Y., majored in marketing and management at BW. He rose above 500 applicants to earn the position of public relations assistant at Central City Opera Festival in Central City, Colo. 

During his 13-week paid internship, he worked with the marketing department — writing press releases, assisting with interviews, distributing promotional materials and maintaining the company blog.
Harmony Fredley '13, from Mars, Pa., majored in management with a minor in music. She made an impression with the Pittsburgh Civic Light Opera. She beat 150 applicants to earn a five-week paid internship during the summer of 2011 with the Summer Dreamers Academy, a partnership with the Pittsburgh City Schools.
In her internship, she was responsible for 50 students between grades one and five that performed the Tony Award-winning stage musical You're a Good Man Charlie Brown.
Comprehensive Curriculum is Key to Success
Bryan Bowser, director of the arts management program, is a 1997 graduate of Baldwin Wallace. Highly respected among Cleveland arts professionals, he has accrued an impressive track record in turning out exceptional graduates.
Students learn both non-profit and for-profit business practices as well as specific training in development, marketing, and programming for the arts. Students are required to complete multiple internship experiences where they learn hands-on skills. 
In addition, students are required to participate in the Arts Management Association (AMA), a student-run organization on campus. Each year, AMA members take a networking trip to a major arts-rich city. In years past, the group has visited New York City, Chicago, Toronto and, most recently, Washington D.C. Through the experience, students learn fundraising first-hand and reap the benefits of networking with major arts professionals across the country. 
Locally, the students work with major theatre organizations. For the past four years, Playhouse Square and BW's arts management and music theatre programs have presented the regional premiere of a musical at the 14th Street theatre. This project is the capstone project for senior arts management students. They conduct market research and develop and implement a strategic marketing plan.

An innovative, Dynamic Career Opportunity
Arts managers across the nation are constantly looking for ways to set their organizations apart from other arts institutions. For students interested in arts as well as other not-for-profit organizations, there are a variety of career opportunities.
"The arts manager must be innovative, entrepreneurial and have a comprehensive knowledge of the arts and culture sector on local, statewide and national levels," believes Bowser. "The field is very wide and deep and we strive to provide students with a skill set that is transferable across the entire sector.  Baldwin Wallace students understand what is necessary to be successful arts managers who produce winning results."
The Baldwin Wallace arts management program currently consists of fifteen credit hours in conjunction with a fine arts and business major or minor component. For more information, contact Bowser at bbowser@bw.edu or 440-826-2366.