Carleton '70, Elected Chair of Baldwin Wallace Board of Trustees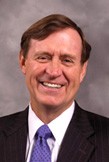 Paul H. Carleton '70, was elected chair of the Baldwin Wallace University Board of Trustees on Feb. 11 at the board's winter meeting. Carleton is the managing director of Carleton McKenna & Co., LLC, which provides strategic and financial consulting services to corporations with a focus on healthcare, technology and consumer products.
He succeeds John W. Kropf '65, senior partner in the law firm of Kropf, Wagner, Lutz & VanSickle LLP, who had been board chair since 2003.Carleton has been a BW trustee since 1996. He was the 2010 undergraduate commencement speaker and is a member of the College's Business Advisory Council.  Carleton earned an undergraduate degree in business from BW in 1970. While here, he lettered in football. He went on to receive a master's degree in business administration from Northwestern University in 1972. In addition, Carleton is a 2009 graduate of the FBI Citizens' Academy. He and his wife Sheryl '71 reside in Shaker Heights and have four children.

Carleton currently serves as trustee or director of Playhouse Square Foundation, University Hospitals Case Medical Center, University Hospitals Medical Group, The Center for Health Affairs and Bluecoats, Inc. He is a member of the Finance and Audit Committee of Shaker Heights City School District. He has served on the boards of numerous public and private corporations. He serves on the boards of Hartland & Co., Khyber Technologies Inc., PerceptIS, Westfield Bank and Clinical Outcomes Management Systems, LLC., and Perfusion Solutions.
"Paul Carleton has been an active member of the board," said BW President Dick Durst. "He served on the Budget Review, Executive, Students Affairs and Trusteeship committees. His counsel and insights are widely respected by fellow trustees.  We look forward to working closely with him as we strive to provide the finest learning opportunities for our students in the years ahead."

Recognizing the Leadership of John Kropf
"Since the first day he set foot on campus as a freshman in 1961, John Kropf was destined to be a decisive leader and advocate for the College," acknowledged Durst. "Serving as student body president and a member of the Yellow Jackets basketball team, his commitment to personal and professional excellence as well as to community service was evident in his actions as a student and contributions as a professional."
Kropf graduated from BW in 1965 with a degree in economics. He earned a Juris Doctorate from The Ohio State University in 1968. After two years in the military, he returned to his hometown of Orrville, Ohio, and joined his father's law firm as partner. 
He and his wife Judy still reside in Orrville and have two children. In recognition of his leadership, he received an honorary Doctor of Humane Letters degree from BW in 2002.  In addition, he was the 2009 undergraduate commencement speaker.
Under his leadership as board chair, the College planned and executed the most ambitious comprehensive fund-raising initiative in its history:  $97,168,974 million in attainment against a goal of $82 million for vital capital, endowment and operating initiatives. Of the $97 million, $27 million was for renovation and support of BW's outstanding science and innovation programs, the largest capital project in BW history.
He was instrumental in revising BW's by-laws to more clearly define the governance role of the Board of Trustees and provide greater transparency in its dealings and decision-making. He also championed increased diversity throughout the BW community.
"John has been instrumental in encouraging countless students to attend BW," noted Durst. "He has acted as a role model to students by encouraging them to pursue lifelong learning, to seek excellence and to strive to become caring and compassionate citizens. We are grateful for his ongoing dedication and tireless work. We are pleased he will continue his high-level commitment and advocacy of the College as a member of the board."