Sustainability Clinic Launched at BW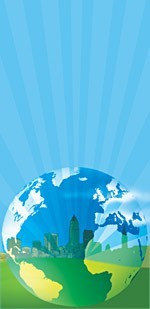 A $100,000 grant from the Fenn Educational Fund of the Cleveland Foundation will help establish a Sustainability Clinic (SC) at Baldwin Wallace University.
The clinic, which will be part of BW's Institute for Sustainable Business Practice (ISBP), will provide services ranging from business audits to full-scale sustainability plans for northeast Ohio entrepreneurs and small businesses. The three-year grant period begins August 1.
"The Sustainability Clinic will provide one more opportunity for BW faculty and students to help organizations and entrepreneurs integrate sustainable business practices into their operations," said BW President Richard Durst. "We believe that this clinic should be a valuable asset to business development and the prosperity of our region. We are grateful to the Cleveland Foundation for helping us make this program a reality."
Similar to BW's successful Business Clinic, the SC will bring together teams of students and a faculty member or senior consultant to work with client companies to plan ways to integrate the principles of sustainability into their business practices, products and services.
"This will be an exceptional opportunity for our students to apply their learning for the benefit of business, our communities and the environment," said David Krueger, Spahr Professor of Managerial and Corporate Ethics and ISBP director.
Faculty director of the SC will be Lynn Schulte, assistant professor of business administration. Information on the Institute for Sustainable Business Practice can be found at www.bw.edu/isbp.
The Fenn Educational Fund has concentrated its resources for nearly 40 years on promoting and assisting cooperative education and internship programs at institutions of higher education in Greater Cleveland. Central to Fenn is the belief that the economic vitality of Greater Cleveland depends, in part, on cooperation between educators and employers.