Finding Herself and Her Calling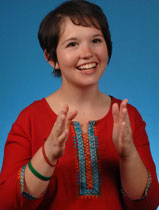 Transforming lives, a frequently stated goal for BW students happened for senior religion major Deanna Drake during Alan Kolp's religion class in her freshman year.
"It was such an amazing class every day," she said. "I walked out thinking this class changes my life. To have the opportunity to take those classes all the time was really exciting for me. That class convinced Drake to switch her major from music therapy to religion." Further classes and the religion faculty verified that she made the right decision.
"I have a close relationship with all the religion faculty," she said. "I feel that they know me well."  Religion classes have a way of helping you Deanna Drake ask good questions- things that are meaningful to your life, your purpose, your goals.
Throughout her college career, other experiences have deepened her understanding of herself and what she hopes to accomplish in her life. For example, before a retreat to the Gethsemani Monastery in Kentucky, she worried about how she would deal with a weekend of silence.
"Now," she said, "if I don't have my silent time during the day, I get edgy.  I went from being afraid of it to loving it."
A trip to India (her second Study Abroad experience) heightened her understanding of the value of a pluralistic society.  The students experienced the five major world religions during their two-week stay. Drake admired the Indians' acceptance of each other despite their widely varied lifestyles and beliefs.
Her selection as a Summer Scholar in 2007 allowed her to pursue a study weaving together process theology and feminist theology which she said "helped me to look at my own relationships to things, with other people, with the earth and with God."
Drake's participation in religion classes led her to co-found SCOPE (Space for Christian Oriented Progressive Engagement) earlier this year. A weekly, open-dialogue group, it has brought elements of class discussions to a broader group.
Her position as the student coordinator for an eight-week program at Archwood House (BW's outreach home on the near west side of Cleveland) helped to prepare her for her first career venture.
"That experience made me feel empowered going into Americorps Vista," she said. She will be a case manager for the Washington D.C. based "Bread for the City." An organization that welcomes the homeless and provides, not only food and clothing, but also job counseling and assistance in securing housing. Following that year-long commitment, she plans to earn a Master of Divinity and a Master of Sociology degree (her minor at BW).Eventually she sees herself working on social justice in a religious setting.
"There are people out there changing the world," she said and it's obvious that Deanna Drake plans to be one of them.