Gesink Honored For Work with Adams Street Cemetery Project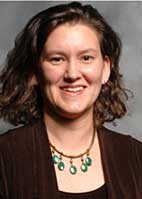 Indira Gesink, chair of the history department at Baldwin Wallace University, received the 2010 Oakley Certificate of Merit from the Association for Gravestone Studies. The award is given to individuals who "foster appreciation of the cultural significance of gravestones and burying grounds" and is given to Gesink for her contribution to the Adams Street Cemetery project.
The Adams Street Cemetery project originated when the city of Berea and Berea American Legion asked Gesink to help locate the graves of veterans buried in the Adams Street Cemetery, the oldest cemetery in Berea. Throughout the project many students, alumni of BW, Berea residents, and others have been involved.
The grave location project has resulted in several spin-off projects, such as: a "reader's theatre" piece written by BW faculty and students, the geology department working to match gravestone fragments, and the communications department working on interviews with veterans. The Adams Street Cemetery is the oldest cemetery in Berea.
Gesink, who resides in Berea, was born in Kalamazoo, Mich., and attended Western Michigan University and graduate school at Washington University in St. Louis. She has a Ph.D. in Modern Middle Eastern History with a specialty in Islamic educational and legal reform. Gesink has received many teaching awards, including the 2009 Gigax Faculty Scholarship Award and an Excellence in Teaching award from BW students and the Memorable Educator award from Ohio Magazine in 2009. She is a member of the American Historical Association, American Research Center in Egypt, and the Middle East Studies Association.