BW at Forefront of Shaping International, Intercultural Education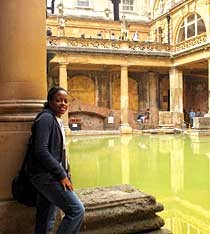 Pioneering efforts to help college students develop the knowledge and skills to function effectively in diverse settings at home and abroad has earned Baldwin Wallace University recognition.
As a member of the American Council on Education (ACE) Internationalization Collaborative, BW has been praised for its efforts in helping to develop many of the emerging best practices to promote international and intercultural education.  These practices address what students should be learning and how liberal education should be redesigned to meet the changing needs of the 21st century. 
"Global Society" is Focus of BW Mission
While definitions vary as to the meaning of intercultural competency, the key elements include the ability to communicate appropriately in diverse settings, understand alternative perspectives and interact across cultural differences.  For BW, these elements are reflected in the College's goal to develop initiatives aimed at making BW a learning laboratory to build intercultural understanding.
Among its many initiatives, BW established the first undergraduate International Studies major in Ohio in 1979 and the first international MBA in 1983.  In addition, it affirmed its commitment by incorporating in its 2000 update of the College Mission Statement that  BW assists students in their preparation to become contributing, compassionate citizens of an increasingly global society.
Likewise, the College undertook a strategic plan for campus internationalization in 2001.  This included promoting global competencies among students through curricular reform, faculty development and expanded international linkages.
Today President Richard Durst has continued BW's commitment to promoting internationalization and global awareness for all students as part of a renewed strategic planning process launched in 2007. Key goals include developing a 21st century curriculum, which fosters a global perspective, affirms diversity and enhances intercultural interaction. 
Shaping Intercultural Perspectives Through Academics
As part of the academic core curriculum, all BW students take Enduring Questions for an Intercultural World(LAS 200).  This course focuses on the ways culture shapes alternative perspectives on global issues here and abroad.  Students also can take international-focused courses from a variety of disciplines as well as a required course focused on domestic diversity.
In addition to the International Studies major and language programs in Spanish, French and German, BW offers international-focused majors and programs with language and/or study abroad requirements. Among these, International Business is the newest undergraduate major with a study abroad and foreign language requirement and the Honors Program also has added a language requirement.
Language Across Curriculum Program Continues to Grow
Intercultural competency also is supported through BW's Language Across the Curriculum (LAC) program, an innovative way to allow students to use foreign language in courses outside traditional language classes.
As a supplement to LAS 200, the College will be offering one-credit LAC courses to promote students' intercultural competency. Students will collaborate in a small-group setting to explore Spanish, French, or German cultural perspectives, the enduring questions and current events. The LAC courses reinforce intercultural skills and global awareness as students use the second language to critically examine alternative perspectives on the enduring questions and contemporary issues in greater depth.
As another example, BW offered a course taught by a biology professor that focused on Latin American environmental issues.  It was taught in Spanish.  Likewise, an education course taught in Spanish was created to help prospective teachers navigate Hispanic diversity among their students and families.
As LAC continues to evolve, future plans are aimed at encouraging faculty to develop LAC courses in different majors and adding Chinese and Arabic to the language offerings. The College intends to utilize the skills of nine bilingual faculty and provide funding for eight other faculty to improve their language skills.
BW's plan is for these courses to be integrated into majors that will help students learn disciplinary vocabulary and experience how foreign languages are used by professionals, thereby increasing student proficiency and global awareness. The longer term objective is to help students become international-focused professionals who can use their skills throughout their careers.
Ongoing Recognition
Committed to furthering its own initiatives as well as those within the scope of higher education, BW has been recognized as a leader in ongoing national dialogue on the topic.
In 2009  Darla Deardorff, executive director of the Association of International Education Administrators at Duke University, saluted Baldwin Wallace University and two other institutions of higher education for their pioneering work as founding members of the Consortium on Culture and Language Across the Curriculum.   

In addition, BW Professor Judy Krutky and other BW representatives have been speakers at prominent conferences for organizations such as ACE, American Association of Colleges and Universities, Association of International Education Administrators and International Studies Association.

Krutky, professor of political science, developed and directs BW's International Studies major as well as the College's Intercultural Education initiative.  She has been at the forefront of the campus Language Across the Curriculum effort.  She has won several awards for her excellence in teaching and her ongoing work with students.