Football Players Engage in Cleveland Clinic Study on Traumatic Brain Injury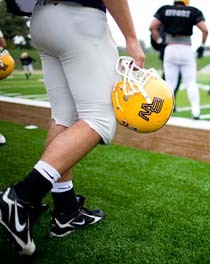 While football players at Baldwin Wallace University and John Carroll University are heated rivals on the field, they both rolled up their sleeves around this year's game for a Cleveland Clinic study that could provide significant insights related to head trauma among athletes.
Sponsored by the National Institutes of Health, the study is investigating the way physical activity can effect levels of brain proteins, in particular S-100B, in the blood.
The study looks at levels of the protein S-100B, which is only present in the brain and not normally found in the blood. If S-100B is found in a simple blood test, a breach of the blood-brain barrier has occurred, indicating a brain injury. Researchers are also looking at the correlation between levels of S-100B and the severity of the hit a player has taken.
Researchers believe the appearance of S-100B in the blood could serve as a marker for the detection and prognosis of concussions, a traumatic brain injury. The findings could be advantageous for coaches, players and health care providers.
Through the study, researchers are hoping to create a point-of-contact device that could help assess a player's health condition. This would enable coaches, trainers and medical staff to better decide whether to allow an injured player to return to the field, to sit out the remainder of the game, or to seek advanced medical attention.
"The safety and well being of our players is priority one at BW," said Yellow Jacket football coach John Snell. "We are honored to be involved in a study with the Cleveland Clinic that can have major implications for coaches, trainers and medical staffs across the U.S."
Student-athletes participating in the study had blood drawn three times. The first was done the evening before game day. The second took place shortly after the game. The final one was the following day.
Involved in the study is Paul Gubanich, M.D., a team doctor for Baldwin Wallace University and an orthopaedic specialist with the Cleveland Clinic Sports Health Center.
Principal investigator for the research is Damir Janigro, Ph.D., who is working with co-investigator Nicola Marchi, Ph.D.  Both doctors are with the Cleveland Clinic Lerner Research Institute.