Riemenschneider 50th Composition Contest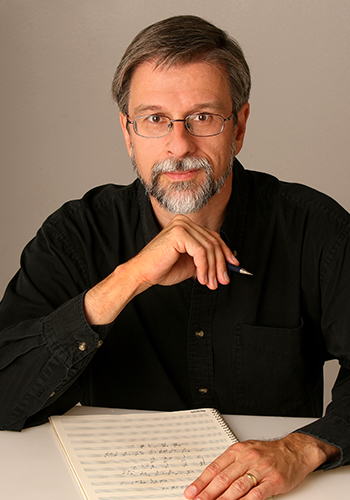 The winner of the RBI 50th Commission Contest is Dr. James Primosch. Born in Cleveland, Dr. Primosch studied at Cleveland State University, the University of Pennsylvania, and Columbia University. He counts Mario Davidovsky, George Crumb, and Richard Wernick among his principal teachers. Since 1988 he has served on the faculty of the University of Pennsylvania, where he directs the Presser Electronic Music Studio.
Dr. Primosch's works have been performed throughout the United States and in Europe by such ensembles as the Los Angeles Philharmonic, the St. Paul Chamber Orchestra, Collage, the New York New Music Ensemble, and the Twentieth Century Consort. His Icons was played at the ISCM/League of Composers World Music Days in Hong Kong, and Dawn Upshaw included a song by Primosch in her Carnegie Hall recital debut. Commissioned works by Primosch have been premiered by the Chicago Symphony, the Albany Symphony, Speculum Musicae, the Cantata Singers, and pianist Lambert Orkis. A second Chicago Symphony commission was premiered in October 2009.
Among the honors he has received are a grant from the National Endowment for the Arts, a Guggenheim Fellowship, three prizes from the American Academy-Institute of Arts and Letters, a Regional Artists Fellowship to the American Academy in Rome, a Pew Fellowship in the Arts, the Stoeger Prize of the Chamber Music Society of Lincoln Center, and a fellowship to the Tanglewood Music Center where he studied with John Harbison. Recordings of eighteen compositions by Dr. Primosch have appeared on the Albany, Azica, Bard, Bridge, CRI, Centaur, Innova, and New World labels, with new discs of vocal and choral works planned. Learn more at jamesprimosch.com.
As winner of the RBI 50th Commission Contest, Dr. Primosch will help us celebrate 50 years of the Riemenschneider Bach Institute by writing a new Bach-themed piece for Baldwin Wallace's Bach Festival on April 24-26, 2020, to be performed by BWV: Cleveland's Bach Choir.