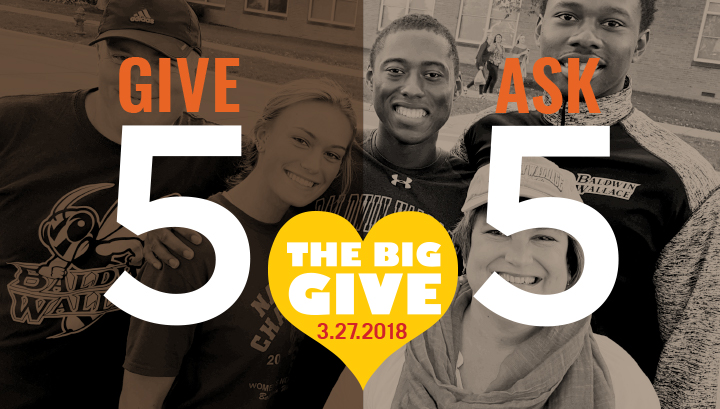 Share
Big Give Makes a Big Impact
The results are in! On March 27, 955 members of the BW community made history by donating more than $100,000 to the BW annual fund in just 24 hours. In total, with our generous matching gifts, $211,203 was raised during this special day of giving. This year's participation exceeded the 2017 Big Give by over $10,000, making this the biggest year yet! When we come together as a community, we truly make a BIG impact.
What is the Big Give?
The 2018 annual day of giving celebrated the fifth anniversary of the Big Give, 24 hours of gratitude and giving. On this day, everyone is asked to showcase their YJ4L pride, make a donation and collectively show support for Baldwin Wallace University's influence on our lives and the lives of each of our students.
The purpose of this community-wide giving challenge is to raise awareness of philanthropy, to continue to build our capacity, and to inspire and bring our community of students, faculty, staff, parents, alumni and friends together for one BIG day.
Missed the Big Give?
If you missed the Big Give, you can still donate to Baldwin Wallace at any time.