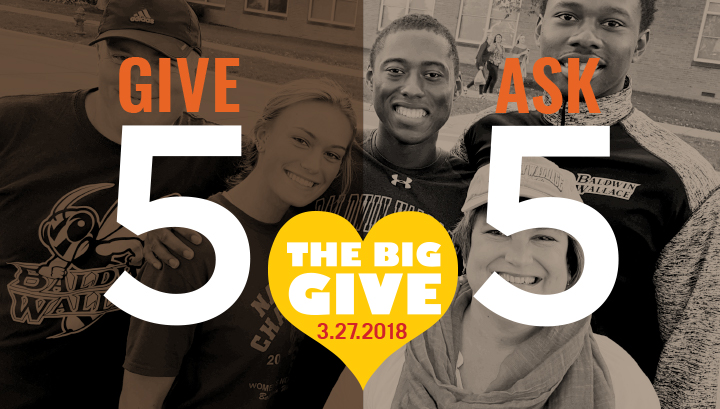 Share

Give 5, Ask 5
On MARCH 27, take a few minutes to be part of the Big Give, BW's annual day of giving. All gifts, whether $5 or $500, will be matched by generous donors and will help to support the dreams of BW students.
THEN, ask 5 BW friends to join you in the Big Give, expanding support for students and strengthening the YJ4L community.
What is the Big Give?
In 2018, we celebrate the fifth anniversary of the Big Give, 24 hours of gratitude and giving. On this day, everyone is asked to showcase their YJ4L pride, make a donation and collectively show support for Baldwin Wallace University's influence on our lives and the lives of each of our students.
The purpose of this community-wide giving challenge is to raise awareness of philanthropy, to continue to build our capacity, and to inspire and bring our community of students, faculty, staff, parents, alumni and friends together for one BIG day.
What is the Goal?
This year we have a two-part goal.
One: Raise $100,000 in unrestricted donations in the 24 hour period.
Anyone is welcome to show their BW spirit by making a donation of any amount. All gifts are appreciated, and 100% of your donation goes to BW! In addition, thanks to an extremely generous group of donors, unrestricted donations made during the Big Give will be matched dollar-for-dollar — up to $100,000 — during the 24 hours.
Two: Reach a participation level of 1,000 donors during the 24 hour Big Give – for the first time ever!
We have experienced a huge outpouring of support on each Big Give for the past four years. In honor of the fifth Big Give, we decided to challenge ourselves to bring in even more donors this year!
How Can You Help?
Let's share our YJ4L spirit as far and wide as possible! In order to achieve our dollar and donor participation goals, we need your help!
First, make a gift to the Big Give. A donation of $5 is a suggested starting point, but all gifts are appreciated!
Next, reach out to five fellow alumni, friends, parents, family members, etc. and ask them to support the Big Give along with you!
Finally, share, retweet and forward our communications to your network so that we can rally the BW community to support the Big Give. Our postings, tweets and emails will include updated totals, stories from campus, giving incentives and links to the Big Give donation page.
Please use the hashtags #BWGives and #BWBigImpact when sharing.
We also invite you to join our team of eAmbassadors – a group dedicated to expanding the reach of BW news and events. Interested? Email bwannual@bw.edu for more information.
NOTE: For this one day only, there will be increased traffic into your email inbox. This will cease after the Big Give. If you opt out of BW emails on the day of the Big Give, you will opt out of receiving all BW information regarding news and upcoming events.
Donate to BW