Dr. Sardari L. and Sunita Arora Scholarship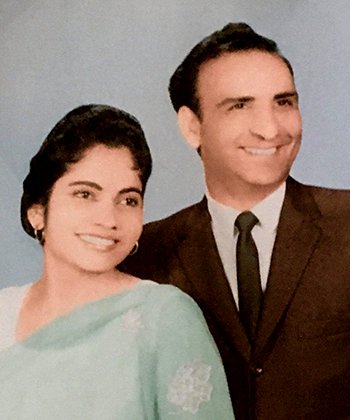 by Rebecca M. Rogg '12, Leadership Annual Giving Officer
Oftentimes, our impact stories are inspired by a transformative student experience. This story is inspired by a passionate educator and his family's heartfelt desire to provide transformational experiences to students by ensuring they have the support necessary for success.
Dr. Sardari and Mrs. Sunita Arora's story blossomed in Kent, Ohio, where they moved with their daughter Nita in 1964. Following the completion of his bachelor's, master's and doctorate degrees from the University of Lucknow in India, Dr. Arora accepted a post-doctorate fellowship at Kent State University. After settling in Ohio, the Aroras welcomed their second daughter, Nalini.
In time, Dr. Arora established a career as a beloved professor of chemistry at Kent State University and a scientist best known for innovations in the synthesis of materials that led to twisted-nematic liquid-crystal displays (TN-LCD), ubiquitous today in an array of applications such as computers, watches, TVs, calculators, smartphones and more. His work can be seen nearly everywhere, and his contributions to the development of LCDs earned him international recognition, patents and several publications in prominent journals. Dr. Nita Arora recalls fond memories of her father bringing home LCD "toys," like mood rings, for her to show her classmates in elementary school. His approach, both in the laboratory and in the classroom, has been described as innovative and inspiring, with an unrelenting passion for science, particularly chemistry.
Devoted to serving as a resource and mentor to his students, Dr. Arora believed firmly that access to higher education was crucial for success. In addition, he and Mrs. Arora were very involved in their church and devoted time to serving others. Investing in their students, family and community was simply a part of who they were.
The Aroras came to know Baldwin Wallace and our programs through their son-in-law, Dr. Jim McCargar, associate dean of the BW School of Natural Sciences, Mathematics and Computing and professor of chemistry. For over 25 years, McCargar has been a part of the BW community and with him, so have the Aroras. McCargar and his wife, Dr. Nita Arora, have immersed their family in the BW community through McCargar's work and their philanthropy. Now, they are experiencing BW through the parent lens with two of their children currently attending the University full time.
In addition, Dr. Nalini Corpora, Dr. and Mrs. Arora's second daughter, has spent much time as a member of the BW community by attending events and generously supporting the University through her philanthropy. Corpora lives in Copley, Ohio, with her husband and two teenage children, one of whom is considering attending BW.
Before Dr. Arora and Mrs. Arora passed, they decided to leave a legacy that would make a lasting impact on students and felt strongly that BW was the place to make their dream a reality. They were impressed with BW's personal approach to education and felt secure in the University's ability to care for their gifts.
The Dr. Sardari L. and Sunita Arora Scholarship was established in 2011 to support students majoring in chemistry. This fund is possible through contributions made from the Aroras' estate and continued gifts from their family, who also believe in the power and possibility of higher education. Baldwin Wallace is honored and deeply grateful to be the home of this scholarship, where the fund has already provided significant assistance to four students.
If you are interested in establishing an endowed scholarship at BW or would like more information, please call (440) 826-2135 or email bwannual@bw.edu.