Dr. Maria G. Marin Scholarship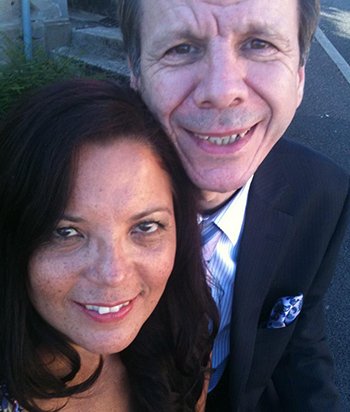 Husband of Beloved Professor Honors Her Memory and Impact at BW
by Rebecca Rogg '12, Leadership Annual Giving Officer, with Laura Callahan, Lecturer in Spanish
Dr. Maria G. Marin was known for being many things: a professor, wife, mother, sister, aunt and most especially, a friend to many. "She was truly invested in her students and had a genuine interest in seeing them succeed and go on to further their Spanish studies or use Spanish in their future careers. It is in this spirit, and to remember her, that I decided to open the Dr. Maria G. Marin Scholarship for current and future students of Spanish," says Georges Zwingelstein, husband of the late Dr. Maria G. Marin
In the fall of 1997, Dr. Marin joined the BW community as an associate professor of Spanish and eventually went on to chair the Department of Foreign Languages and Literatures. From the time she began at BW, Zwingelstein was quickly immersed alongside Dr. Marin into the culture of the BW community. "One of the things that I have always enjoyed about BW is the community inclusion that is always present on campus. I have never felt like a stranger at any of the events I have attended. I will always cherish the memories we both made at BW events."
Dr. Marin's mission was to push her students to go beyond what they thought they could do. She encouraged many of her students to continue using their Spanish beyond the classroom, and beyond their studies at BW. Zwingelstein recalls his wife so often feeling very proud of her students' achievements and frequently sharing them with him. "Many times, I read or heard of the success that her students achieved and how much of an inspiration she had been in their lives. In the months since her passing, many of her current and former students have reached out to me to make sure that I knew what an impact she had made on them."
With her energy and enthusiasm, Dr. Marin managed to grow the Spanish department by many folds. She was always a great support, not only to her students but also to many of her colleagues who were so often also friends.
In memory of Dr. Maria G. Marin's impact on the BW community, Zwingelstein created an endowment to allow her impact to live on through current and future Spanish students at Baldwin Wallace. "After my wife passed away suddenly at the beginning of this year, I was devastated, but I knew immediately that I wanted her spirit to survive in one form or another. I hope to give students the opportunity to take this sense of community with them as they continue at BW, at graduate school or beyond."
With his generous contributions, Zwingelstein hopes that the spirit of Dr. Marin can endure in future students who will benefit from this scholarship. "She always valued the relationships she made at BW, through her students or through her colleagues alike. We as a family are so proud of her legacy and the indelible mark she has left on her students' lives."
Endowed scholarships link past, current and future generations at BW and help make a difference in the lives of students forever. BW has a long history of endowed scholarship support from alumni, faculty, trustees and friends. Over $3.1 million each year is distributed in excess from over 365 named scholarships helping students attend, persist and graduate from BW.
If you would like to contribute to the Dr. Maria G. Marin Scholarship, please visit our giving page and mark this designation in the "other" section.