Telejacket Phonathon Caller Spotlight
Kirsten Goddard
by Rebecca Rogg '12, Assistant Director of Annual Giving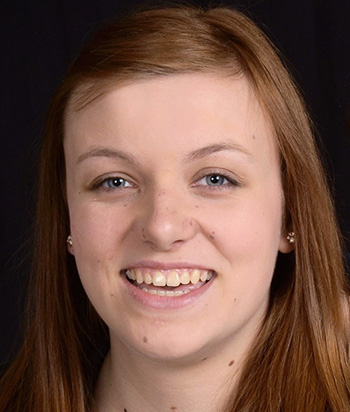 We know you've been there before…the phone rings at night…you recognize the (440) 826 number…and you know it's BW calling. However, who are some of the students on the other end of the phone and why do they keep calling? Meet one of them here.
Kirsten Goddard is a sophomore Arts Management & Entrepreneurship major and is a member of the Peace Corp Prep Program at Baldwin Wallace. She keeps herself very busy with her involvement across campus, including working as a student caller for the Annual Fund.
Kirsten has spent two semesters as a Telejacket caller and loves speaking with alumni and friends of BW. She describes the people she speaks with as "unique alumni who sing the praises of BW and tell of the great adventures that they are having with their amazing careers as they follow their passions."
Working in the call center is more than just a job for the 25 students involved. It's an opportunity to be a part of the philanthropic initiatives of the University and to connect with alumni and friends in the BW community.
Kirsten describes the culture and environment of the call center:
"At the call center we encourage, laugh with and help one another. The callers are involved students who are passionate about making BW a better place for students and faculty. They get excited when they have great conversations with BW alumni and friends and love when people give to improve the lives of current students through financial aid or scholarship assistance, learning opportunities and other university enhancements."
Recently, Kirsten had a wonderful experience speaking with an alum with a degree in biology who chose to go backpacking through Europe after graduation. When she got back from her summer adventure, she began nursing school and began a job at an assisted living facility the next day. She spoke so warmly of BW, encouraged Kirsten to study abroad and was excited to hear about all of her accomplishments as a student thus far. This alum expressed looking forward to donating in the future and hoped her gift would one day make an impact on a student like Kirsten.
Along with many heartwarming conversations with alumni and friends, Kirsten also has opportunities to talk with fellow classmates about why both giving and the call center are so important to the University. "Gifts from many generous alumni, staff, parents and even current students help to remove some of the financial stress for students. Organizations have funds to further their mission and there are more resources for learning opportunities."
Kirsten understands the importance of donor contributions and how they make the difference for so many students.
"The call center makes it possible for the University to receive extra resources to make the school run at full capacity. It's a reminder to our donors who may forget to give that year and brings new donors in who may not have thought about giving."
When she hears questions about the call center from classmates, she makes a point to ask if they've received a scholarship and explains how scholarships and financial assistance are made possible because of our generous donors. The call center is just one avenue (in fact the second largest) to reach these important members of the BW community. Kirsten, being a recipient of scholarship and aid, proudly shares how donor dollars are what makes it possible for her and so many others to attend BW.
"Baldwin Wallace University stands for diversity and inclusion. John Baldwin established the college on giving and education for everyone no matter their gender, race or ability to pay. This is such a great foundation for our school."
Kirsten looks forward to speaking with more alumni and more donors. Who knows, maybe she'll talk with you! She urges alumni to keep sharing great stories with student callers, encourage them in their pursuits and give what they can to allow BW to continue to be excellent in every way!