Endowment: The Gift That Keeps on Giving (Part 2)
by Debbie Miller, Senior Advancement Officer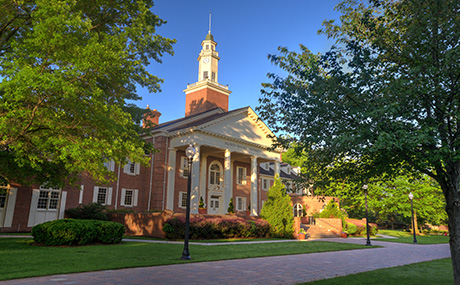 In our last issue of Philanthropy News, we highlighted the importance of endowed scholarships for BW students and shared the story of The Bogardus Scholarship, which has provided nearly $1.2 million in support for students since 1950.
However, how exactly would you go about establishing an endowment fund at BW?
First, it is important to clarify your goals. Are you interested in establishing an endowed scholarship or an endowment to support a specific program or athletics? Would you like to support a faculty position or the library? There is a lot of flexibility when it comes to endowment funds and their many uses. A staff member can help guide you in this process.
After determining your interest areas, our staff will work with you to develop a one-page endowment agreement. This document determines the name of your endowment (whether it is your own name or that of a person you would like to honor or a favorite faculty member), highlights some background information about you as the donor as well as your reason for establishing the endowment, and determines the preference areas for use of the endowment proceeds.
Currently, a minimum of $25,000 is needed to establish a named endowment fund. This gift may immediately be paid in full or pledged and paid over a three to five year period using cash or appreciated securities. You may also choose to add to your endowment fund through an estate gift such as a bequest. As a general rule, BW will only use five percent of the endowment's market value (averaged over the last five years) annually. This allows the proceeds to remain relatively stable as the endowment changes in value from additional gifts or changes in the market value.
It's important to note, however, that the first distribution from the endowment for its intended use will be available one year after the fund reaches the minimum value of $25,000. Some donors also wish to make gifts to the current fund of the endowment so that money may be directed to its intended purpose right away while they are growing their endowment fund. Annually, you will receive an impact report showing you the value of the fund, any new gifts to the fund and how much is used for its intended purpose. If you have established an endowed scholarship, you will also be informed of the names of the of the student recipients and receive thank you letters from these students.
Establishing a named endowment funds is a fabulous way to impact students, faculty and programs for generations to come. It's also a way to leave a permanent legacy at Baldwin Wallace or honor a person who made a difference in your life. To learn more about establishing a named endowment fund at Baldwin Wallace, please  visit our endowment page  or feel free to contact one of our advancement officers (Tom Konkoly, Debbie Miller, Eric Stephens or Mike Walczak) at the advancement office.  
Read Part One of "Endowment: The Gift that Keeps on Giving."