Student Giving Council Success
Class Competition Leading up to Homecoming
by Rebecca Rogg '12, Assistant Director of Annual Giving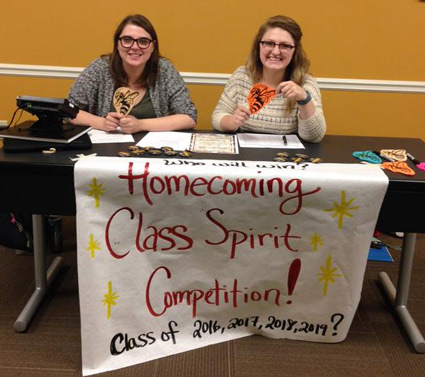 The Student Giving Council (SGC) is a student group on campus comprised of class officers and volunteers who strive to educate the BW student body on the importance of philanthropy and giving back, while also raising funds from fellow classmates to provide scholarships to deserving seniors.
During Homecoming week this fall, the SGC decided to host a new event - the spirit competition between classes to see which class could gather the most funds. For every $1 raised, a Stinger was placed on a spirit wall in the Union.
Senior and President of the Student Giving Council, Madeline Southall said, "The Homecoming spirit competition was something that SGC thought would be fun for students and could generate some gifts to the YJ4th Year Gift, but we never expected the results we got. Raising nearly $900 in four days was an amazing accomplishment and a fantastic example of why BW is such a special place."
With participation from over 100 students, the fierce competition between classes came to a close when results were announced at the homecoming pep rally that the Sophomore Class won by giving a total of $240!
"Homecoming is a time for community and sharing our love for BW. It's a time where YJ4Ls can all gather to celebrate what BW has done for them and share in the joy that comes from being a member of our community. SGC is striving to make that feeling possible for students who could miss out on that community and YJ4L spirit that spans generations by not graduating and obtaining their degree. It was only fitting that the Homecoming Spirit competition showed just how much our students care about one another and understand what YJ4L means."
And these students care A LOT! Just this month, six seniors were awarded scholarships from funds raised by the SGC last year, totaling over $10,000 – a true testament to the term "paying-it-forward." In fact, since the Student Giving Council was first put into place a few years ago, a total of fourteen scholarships have been awarded.
The Student Giving Council is truly encompassing the BW philanthropic spirit! Keep up with the group's future effort and success by following them on Facebook and Twitter!