The Gift That Keeps on Giving (Part 1)
by Debbie Miller, Senior Advancement Officer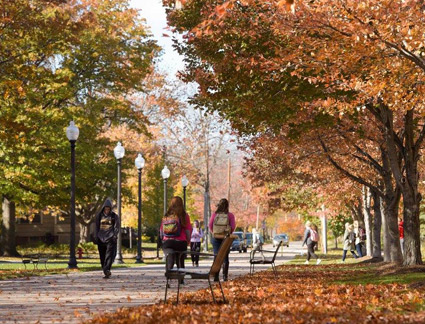 Think back to your time as a student at Baldwin Wallace. Did you have to work to help earn money towards the cost of your education? Did you receive a scholarship to help pay your tuition costs? Was that scholarship named after someone?
The majority of students today, 85% actually, receive financial assistance towards their tuition costs. Financial aid comes in many forms, from merit and need-based scholarships to grants and loans. However with all of these sources, including the family's contribution, many students still have an average financial gap of $3,000 - $5,000. Endowed scholarships play a critical role in helping to close this financial gap.
If you received a scholarship named after someone, most likely the source of funds was a named endowed scholarship. Chances are also good that you are just one of many recipients over a long number of years. Once an endowment is established, it is invested to protect the principal of the fund so that scholarships may be given to generations of BW students.
Baldwin Wallace currently has 365 named endowed scholarships. These funds provide on average $3.1 million each year for our students. In addition, each one carries on the donors' legacies through the lives of students who have and will continue to receive their support. The Theodore & Mildred Bogardus Scholarship is one example.
The Bogardus Scholarship was established in 1950 by Professor Ted Bogardus, an engineering and physics professor who taught at BW from 1943-1971. Ted made annual gifts to build his endowment during his lifetime. When he passed away in 1995, a significant estate gift was added to the principal portion of the scholarship fund. These gifts, coupled with market growth, have enabled the endowment fund to grow to nearly $1.3 million. Over the years, the Bogardus Scholarship has provided $1,162 million in support of our students. In fact, this year marked a milestone, as the five hundredth Bogardus Scholarship recipient was chosen. Perhaps you were even a recipient of a Bogardus Scholarship.
The Bogardus Scholarship and the hundreds of other endowed scholarships at BW, will live on and positively impact the lives of students for generations to come. Wouldn't you like to have that kind of lasting legacy at your alma mater?
To learn more about establishing a named endowed scholarship at Baldwin Wallace, please feel free to contact one of our advancement officers (Tom Konkoly, Debbie Miller, Debbie Sprang, Eric Stephens or Mike Walczak).