James Wallace Society Donor Profile
Duane Bishop '84
by Rebecca Rogg '12, Assistant Director of Annual Giving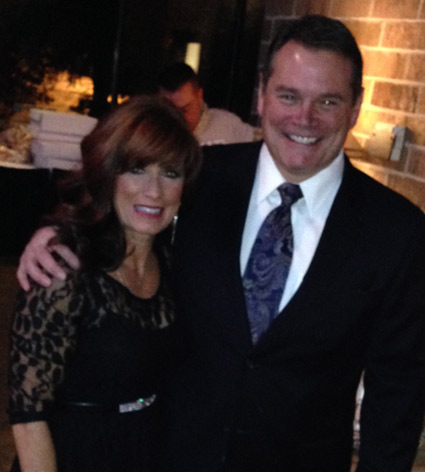 Beginning his student career as an injured athlete with wavering grades, Duane Bishop never imagined he would come away from BW with an accounting degree and as a three-time Ohio Athletic Conference (OAC) championship football player. Raised by a Cleveland firefighter, the 1984 grad had always anticipated that he he would follow in his father's footsteps. It wasn't until his junior year of high school when he was recruited by another OAC school to play football that he began to picture himself as a college student.
Duane (pictured with his wife, Carla) attended the 1979 OAC championship game to see the school's football team and witnessed the team's opponent, BW, win the game. One week later, he was recruited to BW by Coach Lee Tressel. Duane went on to play offensive line for four years under Coach Dave Demmerle, who remains one of Duane's most memorable teachers and mentors. Duane quickly found that by being a part of the BW community and with the support of coaches and professors who instilled a "never quit" attitude, he would be successful both on and off the field.
Along with excellent role models who were committed to developing young men into leaders, Duane was joined by teammates who would grow to become lifelong friends. To this day, he still gets together with teammates on a regular basis and has hosted gatherings throughout the years to keep the relationships strong.
For Duane, being a part of the BW football team is something that he will never forget.
"Any experiences that exceed expectations are truly those that are cherished and most memorable. That describes my experience at Baldwin Wallace."
BW's liberal arts curriculum offered Duane myriad opportunities to focus on his educational goals as well as personal interests. Growing up, Duane's father instilled the value of hard work and dedication by requiring him to take piano lessons. He continued lessons through high school, buying sheet music from some of his favorite bands including Bruce Springsteen, The Eagles and Phil Collins. At BW, his broad education allowed him to continue his study of piano in the Conservatory of Music and develop a repertoire of pieces he played in dorm lounges and around campus.
"BW's culture and social atmosphere is a great fit with the university's outstanding academic credentials and curriculum," he said.
Crediting much of his success to the small student to teacher ratio at BW, Duane recalls Professor Joe Kaderabek pushing him out of his comfort zone to pass his accounting class and above all, excel. Being called upon almost daily to put accounting and tax problems on the board in front of the class inspired him to study and be prepared. This type of encouragement set Duane on the path for success not only in his classes, but as he entered a fast-paced career.
After receiving his business degree from BW, Duane began his career with Forest City Enterprises in 1985 as a financial analyst and property manager at Tower City Center. He then went on to manage South Bay Galleria, a 1.1 million square-foot mall in Redondo Beach, California, from 1987 to 1995. He returned to Cleveland in 1995 as Executive Vice President and General Manager of Tower City Center and went on to hold various roles. He was ultimately promoted to his current role as Executive Vice President and Chief Operating Officer in April 2011.
Aside from his responsibilities at Forest City Enterprises, Duane is deeply rooted Northeast Ohio. Currently, he serves as the Board Chair of Providence House and the Board Treasurer of the International Council for Shopping Centers. Duane also sits on the board of the Western Reserve Fire Museum in downtown Cleveland in honor of his late father, Captain Duane "Dewey" Bishop.
Duane considers community service one of his core values and BW is among the organizations that he proudly supports through his time and gifts. He encourages first time donors to continue the history of giving at BW that has made it possible for current students and alumni to have had such great experiences.
"My passion for BW stems from personal experience and an appreciation for what the charge of the university is within the community. It's my desire to see this great university that provided me with an outstanding education and athletic opportunities continue to grow and thrive."