Ovation 2023: Day of Excellence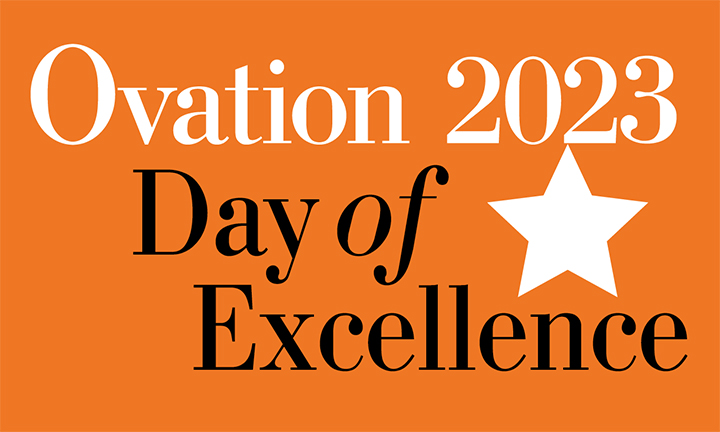 This year's Day of Excellence will feature more than 100 student projects. This signature event highlights student achievements from every school of the university. Students demonstrate their achievements by:
performing original musical compositions or short plays
reading original essays, stories or poems
giving video or slide presentations
exhibiting artwork
presenting research posters
The campus community and general public are encouraged to attend any or all of the events.
Schedule of Events
Opening Ceremony
11 a.m.
Knowlton Center Atrium
Featuring the Yellow Jacket Marching Band and remarks by Dr. Rebecca Korwin '95, executive vice president of science and innovation at State Industrial Products and BW alumna with degrees in biology and chemistry.
Student Project Presentations
11:30 a.m. - 3 p.m.
Knowlton Center and Mainstage Theatre, Kleist Center for Art & Drama
User Experience Project Presentation
11:30 a.m. - 1 p.m.
Knowlton Center UX Lab, Room 241
Lunch
Noon - 2 p.m.
Parking lot between the Center for Innovation & Growth (CIG) and Knowlton Center
Lunch tickets will be distributed electronically to all BW students, faculty and staff. Visitors can obtain tickets from the table in the Knowlton Center lobby.
The Lauria STEM Research Competition
Noon - 2 p.m.
Telfer Hall, Room 330
Students will present their proposals in hopes of winning a $5,000 summer research fellowship, generously funded by Tony and Pat Lauria.
Ovation Soapbox
Noon - 1:45 p.m.
Knowlton Center Lobby
BW students advocate for the issues they are most passionate about.
12:00-12:15 p.m.: Lily Polen - "Tackling the Mental Health Stigma Within Student Athletes"
12:15-12:30 p.m.: Mia Basit - "I AM FIRST!"
12:30-12:45 p.m.: Emily Muench - "The Intersection of Food Allergies and Disordered Eating"
12:45-1:00 p.m.: Hannah Dodson - "A Call for Voter Friendly Classes"
1:00-1:15 p.m.: Sarah Pounder - "Active Athletes"
1:15-1:45 p.m.: Athena Pantoja - "Addressing Micro Aggressions in the Classroom"
1:30-1:45 p.m.: Emi Hathcock - "A Record Setting Year: The Rise in Anti-LGBTQ+ Legislation Since the Beginning of 2023"
Coffee House
Noon - 3 p.m.
Center for Innovation & Growth (CIG)
Sponsored by the Center for Philanthropy and Alumni Engagement
Enjoy a good cup of coffee while BW students present original readings and musical performances.
Internet of Things (IoT) Demonstration
12:30 - 2:30 p.m.
Knowlton Center Robotics Lab
Spring Opera Workshop Production
3 p.m.
Fynette Kulas Music Hall, Boesel Musical Arts Center
Students in the 100, 200 and 300 levels of Opera Workshop courses present their work from the semester.
Engineering Capstone Presentation: Elev8 Sit-to-Stand Walker
3 - 4:30 p.m.
Knowlton Center, Room 107
The five engineering seniors of Team Elev8 will present the design, fabrication and testing of a new mobility device aimed at assisting users with the sit-to-stand transition. The presentation is open to the public, and the team enthusiastically welcomes discussion of their work. Read more > >
BW Does Broadway
7 p.m.
Gamble Auditorium, Kulas Musical Arts Building
The BW Symphony Orchestra and members of BW's Music Theatre Class of 2024 will perform tunes from "Funny Girl," "West Side Story," "The Hunchback of Notre Dame" and more.
About The Ovation Festival

The Ovation Festival is BW's annual celebration of student achievement, showcasing student success in research, scholarship, experiential learning, the arts and more. Full festival schedule >>