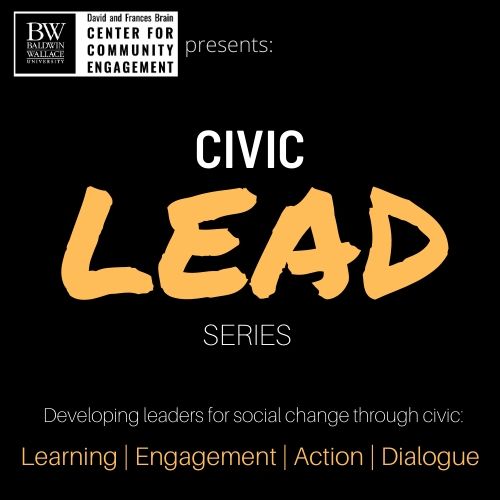 Deep-seated systemic racism and inequities are still woven into the fabric of our institutions today — from health care and education to our criminal legal system.
The BW Civic LEAD Series is a powerful platform for the BW community to connect with both academic and personal perspectives from trusted campus voices across disciplines, elevating our public discourse around race and racism in America.

The live events will be held virtually via Blackboard Collaborate and are open to BW students, faculty and staff ONLY.

Recordings of all events will be posted on the Brain Center YouTube channel as a public resource.
Questions? Please contact Christy Walkuski at cwalkusk@bw.edu.
Schedule of Events
From Awareness to Action: Voting and Other Methods to Create Change
Tuesday, September 22, 5-6 p.m.
National Voter Registration Day!
Presented by student leaders of BW Jackets Engaged, BW's nonpartisan political engagement team
View Recording
Additional Resources:
     Vote.org
     VOTEOHIO.GOV
     ALL IN Campus Democracy Challenge
     League of Women Voters
     Judge4Yourself.com
The Fair Housing Act: America's History of Discrimination
Thursday, October 8, 2-3 p.m.
Presented by Tanesha Hunter, director, Education + Outreach, Fair Housing Center for Rights & Research – Cleveland
View Recording
Additional Resources:
     Fair Housing Center for Rights & Research
African American Literature Matters
Thursday, October 22, 5-6 p.m.
Presented by Dr. Terry Martin, professor of English, Baldwin Wallace University
View Recording
Racial Equity + The Criminal Legal System
Wednesday, October 28, 3-4 p.m.
Presented by Kysten A. Palmore, JD, MSW, MA, deputy director, Community Engagement & Reentry, Ohio Department of Youth Services
View Recording
Additional Resources:
     Black Lives Matter Collection on Netflix
     Ava DuVernay's Netflix documentary "13TH" on YouTube
     "John Lewis: Good Trouble"on Amazon Prime and YouTube
     Amplify Black Voices Collection on Amazon Prime
     The New York Times podcast "1619" on how slavery has transformed America, connecting past and present through the oldest form of storytelling.
     PBS Great Performances: Marc Levin's film adaptation of Anna Deavere Smith's play "Twilight: Los Angeles"
     PBS NewsHour Special: "Race Matters: America in Crisis" (June 3, 2020)
     Henry Louis Gates Jr. vital four-hour documentary series on "Reconstruction: America After the Civil War" (2019)
     PBS NewHour: Isabella Isaacs-Thomas' "What to read, listen to and watch to learn about institutional racism" (June 5, 2020)
     Suggested Reading
Advocacy + Letter Writing Workshop
Thursday, November 19, 7 p.m.
No matter the outcome of the election, how will you stay engaged? Join student leaders from Unite for Justice and the Brain Center for Community Engagement for a workshop about Advocacy + Letter Writing. Learn how you can use your voice for issues of importance by writing to your representatives. Learn tips for effective letters and hear from a former Senate Chief of Staff about how citizen letters can make a real impact!
View Recording