Ovation 2017 - Day of Excellence
Ovation 2017 - Day of Excellence
Thu Apr 27, 2017 at 11:00 AM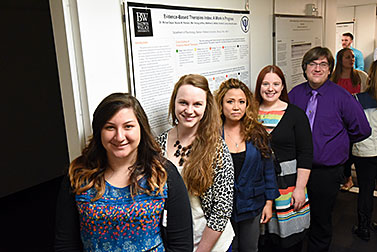 The Day of Excellence is a vibrant celebration of student achievement and creativity at Baldwin Wallace University. It presents the best of BW and highlights student work from every school of the University through posters, displays, live presentations and performances.
The Day of Excellence is the signature event of the Ovation Festival, a 10-day multi-event festival that includes a student art exhibition, Conservatory of Music and theatre events, Voices of Praise gospel choir concert, Sparky Adams track and field meet, 2016 Summer Scholars presentations and Jacket Philanthropy Program awards presentation.
The campus community and general public are encouraged to attend any and all of the events.
Schedule of Events
11:15-11:45 a.m.
Opening Program
Kulas Hall, Boesel Musical Arts Center
Noon-3 p.m.
Poster displays, live presentations and performances
Boesel Musical Arts Center & Marting Hall
3:10 p.m.
Conservatory Honors Concert
Gamble Auditorium, Kulas Musical Arts Building
4:30 p.m.
Honors Awards Ceremony
Gamble Auditorium, Kulas Musical Arts Building
The Day of Excellence is a vibrant celebration of student achievement and creativity at Baldwin Wallace University. It presents the best of BW and highlights student work from every school of the University through posters, displays, live presentations and performances.

Use the searchable table below to find Day of Excellence project by topic, student name, category or location.

| | | | |
| --- | --- | --- | --- |
| Project Topic / Title | Name(s) | Category | Location |
| Summer Water Chemistry of the Lakes in the Richfield Heritage Preserve | Claire Watts | Natural Sciences | Kadel |
| 2016 - 2017 Water Conditions and Frog Occurence in Two Vernal Pools at Carlisle Reservation (Loain Co.,OH) | Alysa Hellisz | Natural Sciences | Kadel |
| Community Resilience in Slavic Village | Lydia Maendel | Multi-disciplinary | Kadel |
| A Collection of Local Ohio Insects | Alysa Hellisz | Natural Sciences | Kadel |
| A Geological Survey of Berea Ohio | Tylor Mahany | Natural Sciences | Kadel |
| The Influence of Personality on Deviance in College Students | Rachel Amanda Holowecky | Social Sciences | Kadel |
| Analysis of Heavy Metal Contamination of Roadside Soils | Erin Bryant | Natural Sciences | Kadel |
| Apoptosis as a Response to Adverse Environmental Conditions in Euglena gracilis | Jackson Hanna | Natural Sciences | Kadel |
| Art in the Classroom | Audrey Casey, Kristen Pesci | Education | Kadel |
| Designing an Agent for an RPG Environment | Mario Alberto Ramirez Venegas, Akshya Pandey, Jacob Locik | Natural Sciences | Kadel |
| "Assessing the impact of 4th ventricular administration of the dopamine D2 receptor antagonist raclopride on sucrose-induced c-fos expression in the rostral nucleus of the solitary tract" | Sarita Hira | Natural Sciences | Kadel |
| Trial Spacing Affects Autoshaped Leverpressing in Rats | Lee Bartlett, Nathan Sabo, Sidney Perelman | Social Sciences | Kadel |
| Building with "Straight Lines" and "Circles" in a Curved World | Justine Malave | Natural Sciences | Kadel (side wall) |
| Caffeine and Subjective Well Being | Vance Gates | Social Sciences | Kadel |
| Determining the Resiliency of Slavic Village | Corri Mullen | Humanities | Kadel |
| Replication: Using AD to solve BVP's in MATLAB | Justin Dill | Natural Sciences | Kadel |
| Slavic Village: An Assessment of Resiliency | Kyle Messner | Social Sciences | Kadel |
| Culture in the Classroom | Carmen Hernandez | Education | Kadel |
| Decreasing test anxiety with Praise | Nada Alempijevic | Social Sciences | Kadel |
| Differentiated Instruction for Above-Level Readers in Grades K-3 | Ashley Haviland | Education | Kadel |
| Candidate Trust and Voting Behavior | Ada Bemis | Social Sciences | Kadel |
| Diversity of Parasites of Ohio Reptile Species | Tessa Smith | Natural Sciences | Kadel |
| Minimum Wage and Unemployemt for Minority Americans | Austin Nagy | Social Sciences | Kadel |
| The Relationship between the Business Cycle and Taxes | Johnathon Spilker | Social Sciences | Kadel |
| The Gender Wage Gap: An Analysis of the Feminist Perspective | Tyler Lee | Social Sciences | Kadel |
| "Effects of Sleep Deprivation on naïve T-cells and inflammatory markers in the Human Immune System" | David Henen | Natural Sciences | Kadel |
| Enhanced Immune-Related Protein in the Offspring Hemolymph of Manduca sexta Subjected to Stress | Bruck Gezahegn | Natural Sciences | Kadel |
| Patient Safety and Student Preparedness Through the Use of Virtual Reality | Brianna Rippin, Madeline Slusher, Maranda Milia, Pedro Manolo Sandoval, Tessa Louche | Business | Kadel |
| Evaluating Performance Characteristics of Unsupervised Machine Learning Techniques as They Relate to Anomaly Detection | Pete Fittante | Natural Sciences | Kadel |
| Promises We Make Together | Sofia Larkins | Experiential Learning | Kadel |
| Relationship Between Frequency of Volunteerism and Academic Major | Taylor Mosbarger | Social Sciences | Kadel |
| Greco-Roman Architecture and its Legacy on the American Imagination, 1776 – Present | Travis Cvanciger | Humanities | Kadel |
| Hepatitis C Awareness Among High Risk Adolescents | Neelab Abdullah | Health Sciences | Kadel |
| Initial Assessment of Estrogen's Role in Sex Differences Seen in Psychophysical Sucrose Taste Detection | Zack Sluzala | Multi-disciplinary | Kadel |
| Immigration and Vote Choice among Independents in the 2016 Election | Chris Sprague, Robert Lintz | Social Sciences | Kadel |
| Community Resilience of the Slavic Village | Matthew Drozynski | Experiential Learning | Kadel |
| "Are Differences in U.S Income Distribution between Racial and Ethnic Groups the Result of Productivity Differences?" | Karleigh Pluta | Social Sciences | Kadel |
| Insect Collection | Lauren LeDuc | Natural Sciences | BMAC First Floor |
| Introversion and Expression of Physical Attraction to Visibly Tattooed Individuals | Rachel Szeles | Social Sciences | BMAC First Floor |
| Investigating the Role of Interface Design in a Virtual Manipulatives Software | Caleb Young | Natural Sciences | BMAC First Floor |
| Investigation of AMB Toxin as a Potential Novel Virulence Factor Regulated by Quorum Sensing in Pseudomonas aeruginosa associated with Microbial Keratitis | Akeem Santos | Natural Sciences | BMAC First Floor |
| Jealousy Expression, Love Styles, and Relationship Satisfaction in Romantic Relationships | Alexis Kerg, Brian Furda, Justin Ball, Miranda Bennett | Humanities | BMAC First Floor |
| Leadership in Philanthropy | Ana Dalipi | Humanities | BMAC First Floor |
| Applications of Complex Numbers in Linear Algebra | Stephen Osborn | Natural Sciences | BMAC First Floor |
| Mastic Gum as an Alternative Treatment for Helicobacter pylori Induced Stomach Ulcers | Lauren Ackerman | Natural Sciences | BMAC First Floor |
| Measuring the Rate of Plasmid Loss in Escherichia coli | Nathan Katz | Multi-disciplinary | BMAC First Floor |
| Independent Voters and Party Extremism | Austin Nagy, Dominic Laurie | Social Sciences | BMAC First Floor |
| Microbial Fuel Cell | Alyssa Grygiel, Austen Peppo, Austin Conn, Callie Jakuszeit, Jarrod Gilliam, Jeremiah Hamlin, Joey Briski, Mason Muldoon, | Natural Sciences | BMAC First Floor |
| Microwave Enhanced Synthesis of Cyclopentadienone Iron Tricarbonyl Complexes | Demi Wetzel | Natural Sciences | BMAC First Floor |
| The Effects of Caffeinated Supplements in Athletes Strength and Aggression | Logan Banks | Social Sciences | BMAC First Floor |
| Phenology of the 2016 Periodical Cicada Emergence (Brood V) and Activity at the Richfield Heritage Preserve (Summit Co., OH) | Katie Swanson | Natural Sciences | BMAC First Floor |
| Do commuter students suffer from lack of place attachment? | Kaia Megiel | Social Sciences | BMAC First Floor |
| "Big 5" Personality Types and Vote Choice | Jack Gerlack, Zak Diperna | Social Sciences | BMAC First Floor |
| A Comparative Analysis: The Impact of Globalization on Income Inequality | Vanessa Adu Gyamfi | Social Sciences | BMAC First Floor |
| Project Affinity 2016 | Delaney Hill, Molly Martin | Experiential Learning | BMAC First Floor |
| Vote Choice in the 2016 Election & Attitudes About Democracy | Kaitlin Peden, Michael Maharidge, Rachel Regula | Social Sciences | BMAC First Floor |
| Putting Off the Less-Preferred: Effects of Information Processing Style Preference on Procrastination | Adam Ramsey | Social Sciences | BMAC First Floor |
| Reconstructing the Pre-settlement Vegetation of Cuyahoga County Ohio | Tylor Mahany | Natural Sciences | BMAC First Floor |
| Revisiting A Comparison of Supervised Learning Classifiers for Link Discovery | Ryan Shucofsky | Natural Sciences | BMAC First Floor |
| Salam From Morocco! | Olivia Murphy | Experiential Learning | BMAC First Floor |
| Slavic Village: What's the Matter? | Michael Rivera | Social Sciences | BMAC Second Floor |
| Social Desirability Bias and Vote Choice in the 2016 Election | Andrew Henthorn, Bess Massad, Brian Dreger | Social Sciences | BMAC Second Floor |
| Gender Bias in the 2016 Presidential Election | Cassidy Lowden, Nikita Martin | Social Sciences | BMAC Second Floor |
| Stabilization of G-Quadruplex DNA: Characterization and Effect on Telomerase Activity | Emily Turner, John Donovan | Natural Sciences | BMAC Second Floor |
| STEAM in the Classroom | Nadine Porcelli, Nadine Porcelli, Natalie Alexander | Education | BMAC Second Floor |
| Sugar Consumption and Memory | Laine Gross | Social Sciences | BMAC Second Floor |
| Synthesis and Reactions of Cyclopentadienone Iron Tricarbonyl Complexes | Madeline Russell | Natural Sciences | BMAC Second Floor |
| The Best Predictor of Long-Term Academic Achievement: Standardized Testing and High School GPA vs. Emotional Intelligence, IQ, Self-Control, Grit, and Conscientiousness | Kayla Sintic | Social Sciences | BMAC Second Floor |
| The Effects of the Alterations in the DSM-5 on the Diagnosis of Schizophrenia | Jeremy Foust | Social Sciences | BMAC Second Floor |
| The Future of an Aging Giant: A Study of China | Corrinne Horvath | Social Sciences | BMAC Second Floor |
| Perception of the National Economy and Vote Choice in Ohio | Clay Gillman, Brett Hartman, Eric Baumgart | Social Sciences | BMAC Second Floor |
| The Synthesis and Toxicity Screening of a Dihydroxylated Imidazolium Ionic Liquid | Allison Lehky | Natural Sciences | BMAC Second Floor |
| Trump v. Media: Trustworthiness, Transparency and Party ID | Ben Justham, Kevin Kaufhold, Sean Williamson | Social Sciences | BMAC Second Floor |
| Traversing Minecraft Ravines using Artificial Intelligence | Brandon Lumsden, Jesse Kovach, Stephen Osborn | Natural Sciences | BMAC Second Floor |
| Unions and Unemployment in the Current Economy | Brianna Rippin | Social Sciences | BMAC Second Floor |
| Vane Trapping to Document Richness of Bumble Bees and Other Invertebrates in a Late Summer Field at Carlisle Reservation | Lauren LeDuc | Natural Sciences | BMAC Second Floor |
| Vectorworks - The Pillowman Scenic Design | Rose Musto | Humanities | BMAC Second Floor |
| Virulence Factors of Yersinia pestis | Jacob Moore | Natural Sciences | Marting 103 |
| Voter Choice and Attitudes in the 2016 U.S. Presidential Election | Deanna Loggins, Martin Cantera, Marvin Williams | Social Sciences | BMAC Second Floor |
| The Imperial War Museum: Leading the Way in the 21st Century | Shannon Kee | Humanities | BMAC Second Floor |
| The Zika Virus | Mamdouh El-Mahdy | Health Sciences | BMAC Second Floor |
| The effect of bacterial metabolite 4-ethylphenyl sulfate on the behavior and development of zebrafish (Danio rerio) | Josh Owczarczak | Natural Sciences | BMAC Second Floor |
| The Relationship Between Jealousy Experience, Love Styles, and Relationship Satisfaction | Caroline Guy, Aliyah Toler, Araria Vaz, Mariah Halata | Humanities | BMAC Second Floor |
| Rocketry | Austin Conn, Kofi Bosompin | Natural Sciences | BMAC Second Floor |
| NPS Centennial "Rock" Tour – An Investigation into Extraordinary Experiences | Thomas Anthony Levitsky, Jr. | Experiential Learning | BMAC Second Floor |
| The Philosophy and History of Daoism | William Lekan | Humanities | BMAC Second Floor |
| Tready: An Open Source Privacy Centric Physical Security Solution | Kurt Wolfe, Bryan Istenes, Gina Hasrouni | Natural Sciences | Marting hallway |
| 19th Century Novel Recovery Project | David Schwartz | Humanities | Marting hallway |
| Baldwin Wallace Journal of Problem Solving | Austin Conn, Dragan Djakovic, Jeremiah Hamlin, Remy Yovanno | Natural Sciences | Marting hallway |
| The Elizabethan codex: Uncovering Shakespeare's Hidden Political, Social and Religious Ideologies for use in Modern Performance | Andrew Ross | Humanities | Marting URCS |
| The Use of Trail Cameras to Determine Mammal Presence and Potential Coyote (Canis latrans) Threats at the Richfield Heritage Preserve (Summit Co., OH) | Erica Morgan | Natural Sciences | Marting URCS |
| The Effect of Brainstem Dopamine D2 Receptor Antagonism on Sucrose Taste Detection in Male Sprague-Dawley Rats | William Anastasiadis | Multi-disciplinary | Marting URCS |
| Did that just happen? The Effects of Racial Microaggressions on Stereotype Threat in Undergraduate African American Students | Winifred Wilson | Social Sciences | Marting URCS |
| Developing Pedagogic approaches for Guitar Based on Well-Established Violinistic Traditions | Patrick Peralta | Conservatory | Marting URCS |
| The Effect of Invasive Species of Earthworms in the Cleveland Metroparks | Agrima Pradhan | Natural Sciences | Marting URCS |
| Voyager Golden Record Theatre Project | Eric Dahl | Humanities | Marting URCS |
| Application of the Recombinant Yeast Estrogen Screen (rYES) Bioassay for Estrogenic Activity of the Rocky River | Yousef Mustafa | Natural Sciences | Marting URCS |
| Continuing the characterization of apoptosis in Euglena gracilis | Alyssa Grygiel | Natural Sciences | Marting URCS |
| Immunological Effect of Bovine Colostrum on Adult Rats | Andrea Huther | Natural Sciences | Marting URCS |
| Design of a Mobile App for Empowering College Students | Georgina Hasrouni | Natural Sciences | Marting URCS |
| Community Resilience: Broadway Slavic Village | Madison McNeil | Social Sciences | BMAC Second Floor |
| The Plate Project | Sarah Thaxton, Wyndi Moore | Multi-disciplinary | Kadel (side wall) |
| 2016-2017 Brain Fellowship | Vanessa Adu Gyamfi, Sarah Gattis, Bruck Gezahegn, Medha Gupta, Robert Loechler, Simone Malone, Emily Martin, Rhea Mendiratta, Wyndi Moore and Domiana Whitten | Experiential Learning | BMAC 211 |
| A LITTLE Translation Can Make a BIG Difference | Brianna Johnson, Rachel Szeles | Humanities | BMAC 211 |
| The East as Other: Achaemenid Persia through Western Eyes | Anthony Kleem | Humanities | BMAC 211 |
| CIG - Take Control Teen Driving Program Assessment | Callie Jakuszeit, Chris Doyle, Lyndsey Marshall, Rachel Klimczuk, Sydney Clark | Experiential Learning | BMAC 211 |
| Enhancing Mobile Security and Privacy Controls for Unmodified Mobile Operating Systems | Amanda Szampias, Dan Jesensky | Natural Sciences | Marting hallway |
| ESL Intermediate Curriculum Project | Ali Al-Ramezi | Humanities | BMAC 211 |
| Health Promotion Document Translation | Ella Guillard, Mario Alberto Ramirez Venegas | Humanities | BMAC 211 |
| A Look into the History of Modern Design | Ali Al-Ramezi | Humanities | Marting 103 |
| Is Race Real - A Scientific Assessment | Yash Kahai | Multi-disciplinary | Marting 114 |
| Major League Bayes-Ball | Alan Jankowski | Natural Sciences | Marting 114 |
| Houston, We're Solving Problems! | Callie Jakuszeit, David Golembiowski, Garrett Witzke, Helen Nguyen, Justin Malave, Kyle Pellegrin, Kyle Ray, Lauren Kasper, Marissa Samsel | Natural Sciences | Marting 114 |
| Seminar in Europe | Alexandra Smith | Experiential Learning | Marting 114 |
| SHRM Case Competition Presentation | Gwyn Dubel, Macy Szucs, Rachel Murphy, Christina Koleno | Business | Marting 114 |
| Inquiry Based Learning | Meghan Bremmer, Mary Miklosovic | Humanities | Marting 114 |
| Thomas Mann's Parody of Tristan und Isolde | Camille Yoder | Humanities | BMAC 211 |
| The Indian way | Shobit Chandak | Experiential Learning | Marting 103 |
| The Influence of the Cold War on Relations between the United States and Cuba | Olivia Pollack | Multi-disciplinary | Marting 103 |
| From Analysis to Apps: Research-Driven Digital Marketing Student Work | David Brubaker, Maddie Slusher | Business | Marting 103 |
| The Tower of Hanoi | Stephanie Egler | Natural Sciences | Marting 103 |
| Translating Foster Care Children's Letters for COARPM (Community of Oscar Arnulfo Romero Peace Mission) | Alex Santiago, Daniela Bravo, Josh Low, Olivia Pollack | Humanities | Marting 103 |
| Involuntary Enrollment - A New Theatre Work on Human Trafficking Victims | Sarah Price | Humanities | Fynette-Kulas |
| Para Encontrarme; Ser Yo/ To Find Me; To Be Me, A Music Composition Project in Honor of Dr. Maria G. Marin | Cameron Christopher Cabot | Multi-disciplinary | Fynette-Kulas |
| Experimental Animation | Tatianna Mercurio | Humanities | Marting 114 |