Presidential Candidates and Promises of Prosperity: Newt Gingrich and Van Jones Debate
7 p.m.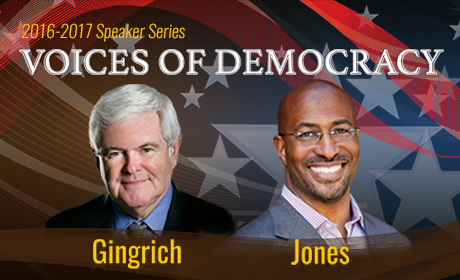 Ursprung Gymnasium, Lou Higgins Center

Please Note: An error in a newspaper ad for this event incorrectly listed the date as Sept. 20.




All Voices of Democracy events are free and open to the public, but entrance tickets required.
For security purposes, only small personal bags (purses, baby bags, etc.) will be permitted and may be subject to search at all entrances. Large bags or backpacks are not permitted. No posters or placards are permitted. There are no storage lockers on the premises so please leave all non-essential items in your vehicle. Any confiscated items will be held and may be retrieved by owners following the event.


Voices of Democracy Event
As the nation considers two polarizing major party candidates, what's at stake for our economy? Newt Gingrich, a conservative former U.S. House Speaker, and Van Jones, progressive activist and CNN political commentator, debate how the major party candidates might lead the nation to economic prosperity. Jones, an environmental and human rights reformer and ex-Obama policy advisor, will argue the case for the Democrat Hillary Clinton, while Gingrich, who ran for president in 2012 and was an early supporter of Republican Donald Trump, will champion the GOP standard-bearer. This debate will focus on a forecast of the economy, business and jobs under each candidate. The BW School of Business Leadership Lecture Series event will be moderated by BW political science professor and news media election analyst Tom Sutton, Ph.D.