Art Song Festival
Gamble Auditorium and Chamber Hall, Kulas Musical Arts Building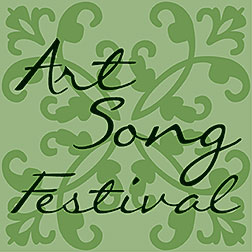 The Art Song Festival is a weeklong festival that focuses on the unique relationship between singer and pianist in the performance of art song repertoire. The Art Song Festival, now in its 23rd Anniversary Season, brings international concert artists and stars of the operatic stage to Northeast Ohio providing the opportunity to hear world-renowned artists in recital and master classes.
Master class tickets at the door. Visit www.bw.edu/artsong, call 440-826-7664 or email artsong@bw.edu for details.
Schedule of Events
All recitals are in Gamble Auditorium. Master classes and lecture are in the Chamber Hall.
Monday, May 23
10:30 a.m., Master Class—George Vassos, artistic director 
3:00 p.m., Master Class—Jason Paul Peterson, pianist
Tuesday, May 24
10:30 a.m., Master Class—

Jason Paul Peterson, pianist

3:00 p.m., Master Class—

Bradley Moore, pianist

8:00 p.m., Recital—Edwin Crossley-Mercer and Jason Paul Peterson

Wednesday, May 25
10:30 a.m., Master Class—

Edwin Crossley-Mercer, baritone

3:00 p.m., Master Class—

Edwin Crossley-Mercer, baritone
Thursday, May 26
10:30 a.m., Master Class—

Bradley Moore, pianist

3:00 p.m., Lecture—

Eduardo Valdes, Metropolitan Opera

8:00 p.m., Recital—Susan Graham and Bradley Moore

Friday, May 27
10:30 a.m., Master Class—

Eduardo Valdes, tenor

3:00 p.m. - 5:30 p.m., Master Class—

Susan Graham, mezzo-soprano
Saturday, May 28
7:30 p.m., Recital—Festival Teams