FOCUS Contemporary Music Festival Concert
7:00 p.m.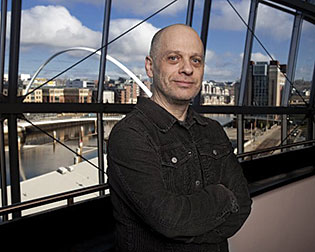 Gamble Auditorium, Kulas Musical Arts Building

FOCUS Contemporary Music Festival: The music of Pulitzer Prize-winning composer David Lang
David Lang embodies the restless spirit of invention. Deeply versed in the classical tradition and committed to music that resists categorization, he constantly creates new forms. Lang's Simple Song #3, written as part of the score for the film Youth by Paolo Sorrentino, was nominated for a 2016 Oscar for Best Original Song.
The FOCUS Contemporary Music Festival presents the BW Orchestra, Symphonic Wind Ensemble, Treble Choir and Motet Choir performing Lang's "the little match girl passion," based on Bach's St. Matthew Passion.
The BW Conservatory is pleased to offer a live-stream of this concert. Due to copyright issues, the concert will not be archived for future viewing. A few minutes before the concert is scheduled to begin, simply click on the link below and be sure to adjust the speakers attached to your computer. Finally, sit back and enjoy the outstanding performance.
For a complete list of live-stream events, visit www.bw.edu/schools/conservatory-music/events/live/index.
Photo credit: Mark Savage
Schedule of Events
Wednesday, March 16, 7:00 p.m. (Free)
Cleveland Chamber Symphony Concert 
     - Featuring Lang's statement to the court & pierced
Thursday, March 17, 3:10 p.m. (Free)
Convocation and Discussion with the composer
     - Moderated by Dr. Clint Needham
Friday, March 18, 7:00 p.m. (Tickets at www.bw.edu/tickets.)
Large Ensembles Concert
     - Featuring the Baldwin Wallace Motet Choir, Treble Choir, Symphonic Wind Ensemble,
       and Symphony Orchestra
     - Performing Lang's o isis and osiris, mountain, evening morning day, & the little match girl passion
Saturday, March 19, 3:00 p.m. (Free)
Chamber Music Concert
     - Featuring Baldwin Wallace Conservatory students and faculty
     - Performing Lang's the anvil chorus, sweet air, Orpheus over and under, ark luggage,
       selections from memory pieces, & cheating, lying, stealing