The Tragedy of Carmen
7:30 p.m.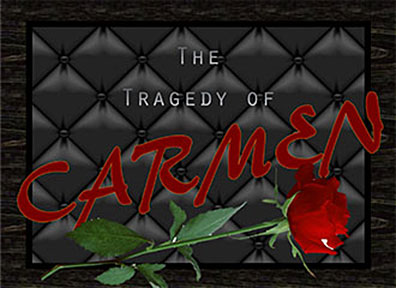 William Allman Theatre, Kleist Center for Art & Drama
Adaptation by Peter Brook
Octavio Más-Arocas, conductor
Victoria Bussert, director
Jason Aquila, assistant music director
Rebecca Nicklos, assistant director & choreographer
Georges Bizet's "Carmen" is among the most-performed operas in the world. Brook's 1983 adaptation pares Bizet's original four-act opera down to its most essential parts, while retaining much of its well-known music including: Carmen's "Habanera" and "Seguidilla," Don Jose's "Flower Song," and Escamillo's "Toreador Song."
Victoria Bussert, director of BW's music theatre program, directs the compelling 90-minute production. The show also marks Director of Orchestral Studies Octavio Más-Arocas' first as conductor of a BW opera leading a chamber orchestra and the cast through the beautifully familiar, yet newly realized, score.
The show is performed in an English translation by Sheldon Harnick ("Fiddler on the Roof" & "She Loves Me").
Recommended for a mature audience only.
General seating; doors open 30 minutes prior to curtain. Tickets available at www.bw.edu/tickets.
Performance Schedule:
Thursday-Friday, February 25-26 at 7:30 p.m.
Saturday-Sunday, February 27-28 at 2 p.m and 7:30 p.m.