MLK Week: Keynote Speaker
8:00 p.m.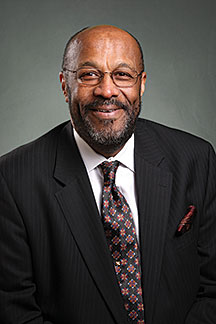 John Patrick Theatre, Kleist Center for Art and Drama
The 26th Annual Martin Luther King, Jr. Celebration is sponsored by Baldwin Wallace University in conjunction with the Berea community and the Campus/Community MLK Week Committee 2016. 
Rev. Dr. Marvin A. McMickle, an astounding scholar and preacher of great faith, returns to Cleveland to speak on the topic of building communities of trust as part of the "Enduring Questions: The Mark Collier Lecture Series."
Until his appointment as the 12th President of Colgate Rochester Crozer Divinity School, Rochester, New York in 2011, Dr. McMickle was a longtime pastor of the Antioch Baptist Church in Cleveland. On the forefront of social, racial and economic justice, he led the church to establish innovative ministries for people with HIV/AIDS, alcoholism, joblessness and hunger.
While in Cleveland, McMickle also served on the Board of Trustees of Cleveland State University, as president of the Shaker Heights Board of education, and as president of both the local NAACP and Urban League chapters. He is also the author of 15 books.
Free and open to the public.
For a complete list of events during the weeklong celebration, visit www.bw.edu/events/2016/mlk-week.