Fall 2020: Information for Undergraduate Students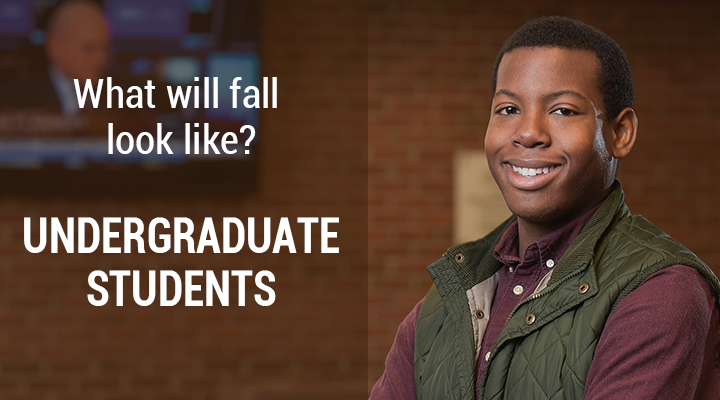 Please make sure you check your BW email and this page as we announce details for required, pre-arrival  COVID-19 awareness and safety training, instructions for daily health check-ins using a shared app and a BW Be Safe Pledge we will all make to each other.

Personal Protective Equipment (PPE)

All students are asked to come to campus with Personal Protective Equipment (PPE), including the following items:

3-5 reusable/washable cloth face masks — All students will be required to wear masks in all public areas of campus. In addition, all students will be provided two (2) washable cloth masks in their first days on campus.
Personal digital thermometer (mercury thermometers will not be permitted due to safety concerns) — All students will be required to complete a daily online check-in with temperature before attending class or visiting dining facilities.
Personal use hand sanitizer — All students will want to have access to their own hand sanitizer in addition to stations available throughout campus.
Supplemental surface sanitizing supplies

—

Students may want to supplement cleaning supplies that will be available in classrooms, common areas and recreation areas with personal surface sanitizing products.

Other Items to Consider Bringing to Campus

Medications — Students may want to have acetaminophen or ibuprofen on hand for fever or discomfort, along with any additional medications regularly taken or prescribed.
Insurance information — Have your health insurance information available either on your person or your phone. You will not need this for most services provided at the BW Health Center but would need to provide it if you require COVID-19 testing or care at other local health care providers.

Campus Living

This year residence halls will be "de-densified" with many students in single rooms and no more than two students per room.
Bathroom facilities and common areas will have restricted occupancy levels.
Residence hall move-in will be phased to allow safe access. First-year students are asked to choose a move-in date and time between August 19-20. Weekend of Welcome On-Campus Orientation will kick-off the evening of Thursday, August 20. All returning students are asked to choose a move-in date and time between August 21-23. Additional instructions and the move-in scheduler link were included in an email to all residential and early arrival students.

Residence Hall Policy Updates

All students are required to wear face masks in residence halls when not in their individual room.
No more than two people in an elevator at a time. Please follow posted signage.
After move-in, only BW students are permitted as guests in residence halls and campus apartments. Each residential student is allowed one student guest at a time.
Lounges, bathrooms and laundry rooms will have a maximum capacity clearly indicated on signage. Students are required to wear a face mask and follow 6-foot physical distancing guidelines.
All high traffic areas (e.g., entrance doors, elevators, water fountains, community bathrooms) will be professionally cleaned and sanitized twice a day. Residence halls with individual bathrooms will be cleaned once a week.
Students will be responsible for cleaning their individual rooms and are expected to help keep the community spaces clean.

Commuter students will continue to have access to all dining locations, the library and campus resources following all new health protocols, including limited room capacities.
The Commuter Lounge in Heritage Hall will be open to six (6) commuter students at a time to support 6-foot physical distancing. Computers have been removed and the number of chairs has been reduced.
CAB Thursday Pizza has been temporarily suspended.
When you come to campus, please arrive prepared with proper COVID-19 health and safety items like masks and hand sanitizer. See a full list of Personal Protective Equipment (PPE) all students are asked to bring to campus.
Required daily health check-ins and all other health protocols apply to both commuter and residential students.

Baldwin Wallace Dining Services follows federal, state and local guidance and complies with the Ohio Restaurant Promise  implemented by the Ohio Restaurant Association regarding health and safety while continuing to provide students with food diversity and balanced nutrition.

Options for students with food restrictions will continue to be provided at dining locations. Students with specific dietary needs are welcome to contact BW's Dietetic Tech and Culinary Director for virtual or in-person meetings at (440) 826-2414.
All diners are required to wear masks in dining facilities until seated and eating.
All diners will be required to maintain a minimum 6-foot physical distance from other diners while at food service stations and when dining. Dining staff will help direct the flow of diners and assist with physical distancing.
The Union Dining Hall with all-you-care-to-eat dining will continue to provide full-service stations with a wide variety of meal options. Each station will offer carry-out containers along with eat-in disposable tableware. Condiments, flatware/plasticware and other items will be provided at each station and distributed with food selections. Students may not use reusable containers or cups and will not be charged for carry-out containers. Seating will be limited to promote physical distancing and will be available on a first-come, first-served basis. Tables and chairs will be cleaned and disinfected after each use.
Lang Dining Hall will offer a variety of grab-and-go options, boxed entrées, desserts and more. There will be no seated dining available in Lang Hall during the fall 2020 semester. Condiments, flatware/plasticware and other items will be provided at each station and distributed with food selections.
The Colony Room, located on the main floor of Strosacker Hall, is now the Colony Café, a full-service, bistro-style venue with soups, sandwiches, salads and dessert options. Diners will place orders at a counter and proceed to a no-touch pick-up station.
The Hive Café, located on the lower floor of Strosacker Hall, will offer expanded coffee bar options, along with milkshakes, ice cream and a wide variety of grab-and-go options.
Smoothie Bar, located in the Lou Higgins Recreation Center, will continue to offer custom-made smoothies, snacks and a variety of grab-and-go options.

BW is committed to a high-quality, personalized education that challenges and supports our students on their path toward graduation. We plan for the majority of undergraduate classes to be held in-person, taught by BW's dedicated and expert faculty, in the same small class sizes that define a BW education. 

Academic Calendar

To ensure flexibility, undergraduate students will follow a modified 16-week semester schedule.
The first day of classes remains August 24, with in-person classes ending by Thanksgiving.
The last week of classes and week of finals, November 30 through December 11, will be conducted remotely. View fall 2020 academic calendar and final exam schedule.
Classes will be held on Labor Day, Monday, September 7.
Classes will not be held on Wednesday, October 14, for fall break. The exceptions are Minimester-A classes, once-a-week Wednesday classes and graduate classes, which will meet on October 14.
Thanksgiving break will remain from November 25-29.
In general, students are not to return to campus after Thanksgiving. Students may request to return to campus residences after Thanksgiving if they are members of athletic teams, engaged in research projects or if a student shows personal need best served by remaining on campus. Please note, all students living on campus during this time will attend classes remotely. Post-Thanksgiving residency request forms will be available to students starting October 1. 

Variety of course design

All classes will employ blended instruction that includes in-person and synchronous remote instruction.
For in-person instruction, classrooms have been modified to allow appropriate space to meet while maintaining 6-foot distancing and wearing masks. Most classrooms have enough space for the entire class to meet in person. However, some classes will be divided into small groups to facilitate rotation of in-person and remote instruction.
For synchronous remote instruction, students will attend the live class remotely (such as from your dorm room, home or other location), allowing for interaction and participation in class activity.
Your professor will contact you prior to the start of classes to communicate the schedule of in-person and remote sessions as well as any small group assignments.
Some classes may be converted to fully online at the request of the professor. If that is the case, the class will be indicated as "online" in the "Meeting Information" section on your schedule.

Classroom technology

BW is investing in classroom technology to connect remote students and in-class students.
Microphones and cameras are being installed. 
Twelve classrooms across campus have been upgraded as interactive remote instruction hubs for professors and students.
Across campus, Wi-Fi signal strength is being increased so that on the days you are participating in remote instruction, you will have the bandwidth and Wi-Fi connectivity needed to attend class.

Specialized spaces

Science labs, art studios, practice rooms and all other specialized spaces are being adjusted to give you the opportunity for hands-on experiences while maintaining safety protocols.

Classroom health and safety

BW Be Safe protocols will be provided as part of a syllabus link on all Blackboard course sites.
Students should expect to clean personal spaces (work surface and chair) before each class. 
More time between scheduled classes will be provided to reduce crowding during class changes.
Students will have access to academic technology to participate remotely as needed to ensure campus safety or as required by individual circumstances.
Students can take advantage of flexible advising opportunities with a mix of in-person and virtual office hours.
Professors will be wearing masks. When necessary, masks will include clear plastic inserts for our hearing-impaired students. 
Some specialized areas, like performance and practice spaces, will include passive PPE barriers (plexiglass, etc.) to maintain 6-foot physical distancing and help block the spread of heavy air-born contaminants.

Request for remote learning

The deadline has passed for students to request to take all of their classes online for the fall 2020 semester.

BW will continue an active campus life, offering students activities, events and services with health and safety modifications, such as prescheduling and limits on capacity to protect health and safety.
On-campus academic and cultural events will be limited to participating students and sponsoring faculty and staff only. 
Events may be archived or simulcast (as permitted by licensing agreements) for others to watch remotely.
The size of the audience permitted at events will be limited to revised facility capacities that maintain physical distancing and utilize approved seating configurations.

Maintaining a Healthy Campus

Even more important than the physical infrastructure changes and other measures we are taking for your safety is the need for all of us to be willing to adhere to new safety requirements. Those include wearing masks while indoors and in the company of others, maintaining minimum 6-foot physical distancing, adhering to guidance on group gatherings and living on campus, and following lab, practice room and athletic protocols.
Our students, faculty and staff all will be called upon to demonstrate care for each other through compliance with these safety measures. We will all be expected to politely offer and accept reminders to adhere to these safety measures as we make our way through this academic year.
The BW Be Safe Pledge is the first way we can all agree to demonstrate care for each other. Students, faculty and staff will sign this agreement prior to the start of classes. Everyone will also complete online, pre-arrival COVID-19 awareness and safety training and use an app for daily health check-ins.
Students will be able to access health and wellness services and support provided on campus through the BW Health Center and the Recreation Center. Access to COVID-19 testing and notifications will be available at the Health Center or other local providers or hospitals.
Enhanced cleaning protocols across campus are based on the CDC's "Guidance for Cleaning and Disinfecting Public Spaces" and require the use of U.S. EPA-approved disinfectants for use against SARS-CoV-2. The overall disinfection and cleaning of surfaces will be completed by BW custodial teams on a scheduled basis, with frequently touched surfaces (e.g., door handles, sink handles, drinking fountains, grab bars, hand railings, bathroom stalls) cleaned at least daily or between use as much as possible.
Students, faculty, and staff are encouraged to use disinfectant wipes to wipe down shared desks, lab equipment and other shared objects and surfaces before use.
Classrooms and some common areas will be provided with CDC-approved disinfectant and roll towels to facilitate the increased frequency of wiping high touch points during the day.
In addition, the custodial staff has increased the frequency of restroom cleaning to twice daily in all residence halls and academic buildings and three times daily in the student union and recreation center.

Can Students New to BW Defer Their Enrollment?

Incoming students who wish to evaluate the admission and financial aid implications of deferring their admission to the start of another semester or potentially withdrawing from BW during or after their first semester at BW should contact Joyce Cendroski, Director of Undergraduate Admission, by phone at (440) 826-8004 or by email at jcendros@bw.edu.

Fall 2020 Study Abroad

All Fall 2020 study abroad programs have been canceled. Students have been notified of this decision and were provided details on deferring their applications. The following factors contributed to the decision-making:

The BW Study Abroad Travel Policy

Currently, The U.S. Department of State maintains a Level 4: Do Not Travel Global Health Advisory. BW does not operate programs in countries where there is a Level 3 – Reconsider Travel or Level 4 – Do Not Travel Advisory Rating from U.S. Department of State or where there is an Alert Level 2-Practice Enhanced Precautions or Warning Level 3- Avoid Nonessential Travel from the CDC.

Public Health Advice

During periods of heightened risks, such as COVID-19, BW closely monitors the countries where our programs operate, such as movement restrictions or quarantine requirements that would potentially impact the program. We have relied on the guidance of the Centers for Disease Control (CDC) and the World Health Organization (WHO), regarding limitations and restrictions surrounding international travel.

Please note: The decision to cancel programs for the fall term is final and will not change even if circumstances should change in your host country.

Spring 2021 Study Abroad

Due to the rapidly evolving nature of the COVID-19 pandemic and its implications for health and safety and for travel, BW will continue to monitor the situation before making any determinations about study abroad for spring 2021.

We remain optimistic that spring 2021 programs will be possible and applications are currently open. Students are encouraged to review and complete their application requirements and to stay in contact with the Explorations/Study Abroad Center. In the event that study abroad for spring 2021 is unable to move forward as planned, we will convey any decisions with as much advance notice as possible.

If you are interested in applying to study abroad spring 2021, the list of programs and links to the online application can be found on the study abroad website.

Spring 2021 Full Semester Independent Programs

Currently, Spring 2021 programs will run as scheduled, unless the U.S. State Department issues a level 3 or 4 travel alert or the CDC issues a level 2 or 3 travel alert for host countries.

Explorations/Study Abroad continues to monitor the situation and will keep students informed if travel advisories change. Because of the uncertainty, students should develop a back-up plan and prepare for both, studying abroad and for program cancellations. This means, staying in contact with Explorations/Study Abroad and academic advisors.

Course Registration
It is recommended students register for spring 2021 BW on-campus courses and housing (if needed) during their normal registration time. Once a final decision has been made about spring 2021 travel (beginning of November), students can adjust their academic schedules accordingly.
Flights
Students should not purchase flights until they have received notice to do so from Explorations/Study Abroad.
Communication and Backup Plans
Explorations/Study Abroad will provide updates throughout the fall 2020 semester and will provide students with guidance for developing back-up plans.

Spring 2021 Faculty Led Seminars

Currently, spring 2021 faculty-led seminars will run as scheduled unless the U.S. Department of state issues a level 3 or 4 alert or if the CDC issues a level 2 or 3 alert for host countries. Explorations/Study Abroad continues to monitor the situation and will keep students informed if travel advisories change.

Notification of Travel Cancellations
For programs with travel in May, a final decision regarding travel will be made in February 2021. For programs with travel in March, a final decision regarding travel will be made in December 2020.
Refunds
If travel is canceled, students will receive a full refund of the program fee to their BW student account.
Courses
Students will remain registered for the course(s) associated with their faculty-led seminar. Faculty may alter course content and assignments. Depending on these adjustments, International Studies Core and Experiential Learning fulfilment may be adjusted. Students will receive specific details about course back-up plans, adjustments, and changes directly from their faculty leaders.
Withdrawal/Cancellation Fees
The deadline to withdraw from the seminar is November 15. If a student withdraws after this date, they will forfeit the non-refundable deposit and be charged a $300 cancellation fee. Depending on the late cancellation date, a student may incur additional cancellation fees or may be responsible for the entire program fee. For specific details, please contact the Explorations/Study Abroad Center. To withdraw, students must submit a statement in writing to Explorations/Study Abroad directly.

Explorations/Study Abroad Center

The study abroad center continues to be available and active through virtual meetings, phone calls and email. When fall classes begin, students will be able to schedule in-person appointments following campus health safety guidelines. Virtual appointments will remain available as well.

Other International Opportunities

Look for information about our annual Study Abroad Fair, which will be held virtually this fall, as well as our new Global Classrooms initiative, which will incorporate virtual international experiences and global partnerships into the classroom.