Fall 2020: Information for Graduate Students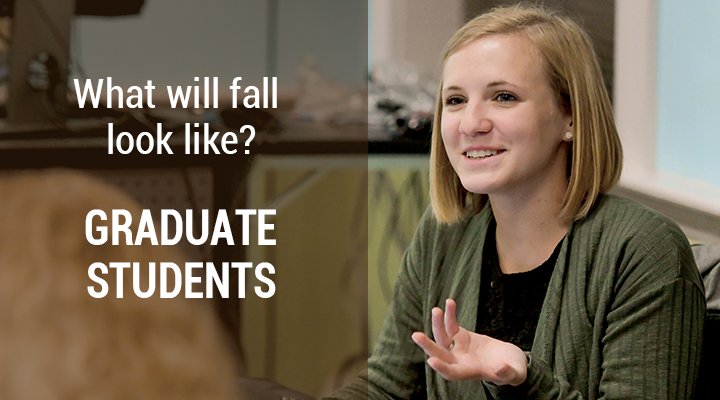 Updated July 23, 2020
What You Need to Know
All students will commit to follow BW campus and public health guidelines, including daily health check-ins. Details will be provided.
We will provide aggressive cleaning protocols, and we will ask you to wear a mask and practice strong personal hygiene discipline, particularly when indoors.
All students are asked to be prepared to come to campus with Personal Protective Equipment (PPE):

3-5 reusable/washable cloth face masks — All students will be required to wear masks in all public areas of campus. In addition, all students will be provided two (2) washable cloth masks in the first days on campus.
Personal digital thermometer (mercury thermometers will not be permitted due to safety concerns) — All students will be required to complete a daily online check-in with temperature before attending class or visiting dining facilities.
Personal use hand sanitizer — All students will want to have access to their own hand sanitizer in addition to stations available throughout campus.
Supplemental surface sanitizing supplies

—

Students may want to supplement cleaning supplies that will be available in classrooms, common areas and recreation areas with personal surface sanitizing products.

BW will ensure your progress toward your degree with continuous review and adjustments of Graduate School and unit-level policies and procedures as feasible to support you.
You will receive professional development and support services tailored to the specific challenges that COVID-19 poses to your career preparation.

For in-person courses, we will practice physical distancing in classrooms and academic technology support.

You may be scheduled for staggered in-person attendance for some courses to keep the overall density low in classrooms and keep everyone as safe as possible.
We will emphasize in-person delivery of labs and studio courses.
You will have flexibility through the use of academic technology to participate remotely as needed to ensure campus safety or when your personal circumstances require it.
You will set a mix of in-person and virtual office hours with your professors and instructors.
You can take advantage of in-person and virtual advising opportunities.
Clinical rotations for both nursing and the physician assistant program are continuing to take place with our health care partners under their safety protocols. Speech-language pathology (SLP) graduate students are conducting faculty-supervised speech clinic services via telemedicine delivery.

BW continues to offer limited graduate student housing in Hamilton C and D and Grand Manor Apartments until they reach capacity. All units are single occupancy unless two students request to be together.

Even more important than the physical infrastructure changes and other measures we are taking for your safety is the need for all of us to be willing to adhere to new safety requirements. These include wearing masks while indoors and in the company of others, maintaining social distancing, adhering to guidance on group gatherings and living on campus, and following lab, practice room and athletic protocols.

Our students, faculty and staff all will be called upon to demonstrate care for each other through these safety measures. We will collectively need to hold each other accountable to enforce safety measures as we make our way through this academic year.

The BW Be Safe agreement, to be signed by all students, faculty and staff, is the first way we can all agree to demonstrate care for each other. Students will be asked to sign this agreement prior to arriving on campus. Faculty and staff will sign this agreement by the start of school on August 24.
Students will be able to access health and wellness services and support provided on campus through the Health Center and the Lou Higgins Recreation Center. Access to COVID-19 testing and notifications will be available at the Health Center, other local providers or hospitals.
Enhanced cleaning protocols across campus are based on the CDC's "Guidance for Cleaning and Disinfecting Public Spaces" and require the use of U.S. EPA-approved disinfectants for use against SARS-CoV-2. The overall disinfection and cleaning of surfaces will still be completed by BW custodial teams on a scheduled basis, with frequently touched surfaces (e.g., door handles, sink handles, drinking fountains, grab bars, hand railings, bathroom stalls) cleaned at least daily or between uses as much as possible.
Students, faculty and staff are encouraged to use disinfectant wipes to wipe down shared desks, lab equipment and other shared objects and surfaces before use.
Classrooms and some common areas will be provided with our CDC-approved disinfectant and roll towels to facilitate the increased frequency of wiping high touch points during the day.
In addition, the custodial staff has increased frequency of restroom cleaning to twice daily in residence halls and academic buildings, and three times daily in the student union and recreation center.