Dear BW Community,
We're halfway to Thanksgiving break, and midterms are upon us. Campus is healthy and alive with activities, safely done, of course. Check out the photo slider below for some of our favorite pictures. In the past seven weeks, we have seen you step up and keep your promise to follow the BW Be Safe health safety protocols. Through your actions and your choices, you are succeeding at protecting each other and our semester together. Our health team continues to keep us focused on keeping our campus healthy. Below find a few updates and reminders:
Increased surveillance testing.
Surveillance testing is one way we continue to gauge the health of our campus, and BW recently increased the sample size for weekly surveillance testing to more than 100 students, staff and faculty. BW maintains a dashboard that includes the number of positive cases from all campus testing, as well as off-campus testing. Updates are made each Monday on our COVID-19 Dashboard.
Time for a flu shot.
The annual public health recommendation to get a flu shot is also of special importance this fall. Flu and COVID-19 symptoms are very similar. Please act on the side of caution and consider any flu symptoms as possible COVID-19 symptoms. The Health Center is offering the flu vaccine for $20. Walk-ins are welcome anytime from 9 a.m. - 5 p.m. Monday through Friday. Please be fever-free and feeling well when receiving a flu shot.
We hear you.
We've also heard you when you voiced concerns about incidents of noncompliance. Every report submitted is reviewed. Submissions with specific enough information to act on have been investigated, and action has been taken to promote future adherence to health protocols. Nearly 100 submissions have been received, and more than 90% have resulted in warnings or corrective action.
Keep your guard up.
Now that we are at the midpoint of the semester, it might be tempting to relax a bit. Instead, as the days get cooler and we spend more time indoors, we must remain committed to following all health protocols. This includes wearing masks, washing hands, using hand sanitizer and cleaning work surfaces frequently. Keep social gatherings to 10 or less with 6-foot distance and wearing masks. Please note that gaiters and bandanas are NOT approved as acceptable BW face coverings on campus; cloth masks are required. Most gaiters and bandanas do not provide effective protection. Look for a BW-approved gaiter in the coming weeks.
Looking good on campus.
Check out these Yellow Jackets on campus and the activities that bring us together safely.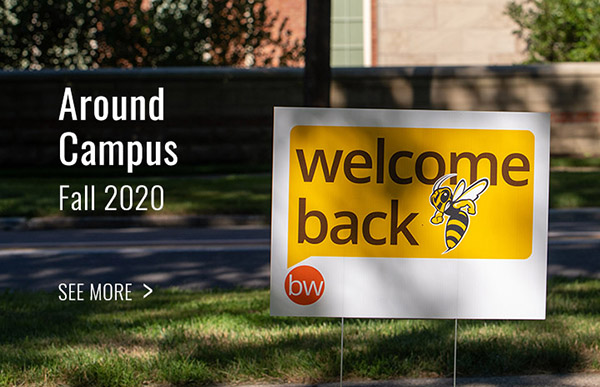 Midterm strong.
Just as you have committed to campus safety, I hope you are focused on succeeding in your midterms. Good luck on those exams, projects and papers, and keep looking out for each other. You make BW proud!
Sincerely,
Dr. Dale Grubb,
Interim VP for Student Affairs and Leader of BW's Health Advisory Committee
Baldwin Wallace University