Campus Communication: Can you picture the first day on campus?

Dear Students and Families,
Can you picture your first day on campus? We can, and we can't wait to see you – from a proper distance, of course. We hope you feel the excitement that comes with starting a new year, and we understand that along with those feelings will come concerns about how you can safely navigate daily campus life. We have taken great measures to reduce the risk of COVID-19. But for those measures to be successful, it will take effort on your part to help keep your campus safe and healthy.
COVID-19 Training
Understanding COVID-19 and how to control its spread is one way we can keep BW healthy. All returning students should have received an email from Get Inclusive with the subject "Online Modules Assigned" that has a personalized COVID-19 campus training link. If it's not in your BW email inbox or junk folder, contact Bob Beyer, Associate Director Residence Life, bbeyer@bw.edu. First-year students may complete their training prior to arriving or will be given time during Week of Welcome to complete training.
Daily Health Check-in
The Daily Health Check-in is another way we'll keep BW healthy. Next week we will introduce a Daily Health Check-in app to download to your phone. The Daily Health Check-in can also be completed by email if you prefer. You will be asked to complete a simple health check-in before starting your day. Through the app, you will be cleared to GO or directed to health resources if you have symptoms that need to be addressed.
Before Arriving on Campus
We are asking ALL members of the BW community to take personal precautions in preparation for the start of the fall semester. Starting today, we're asking you to take common sense actions to reduce your risk for contracting COVID-19. Following the recommendations from the Centers for Disease Control, the Ohio Department of Health and BW's health partners, we ask that you follow these guidelines, to the extent you are able, prior to arriving on campus:
Wear a mask, maintain physical distance in public areas and wash your hands regularly.

Begin daily monitoring of your health, including taking your temperature. Next week, you will be able to download the BW Daily Health Check-in app and begin using it.

Seek medical attention if you become symptomatic. Notify the BW Health Center if you test positive for COVID-19 prior to arriving on campus.

Avoid crowds and limit public activities (e.g., shopping, social gatherings), public transportation, taxis or ride-shares.
The actions you take now to reduce the frequency and duration of exposure to COVID-19 will protect yourself and the BW community when you arrive on campus. This is another important way we will keep BW healthy.
BW will always be an Extraordinary Experience
We understand that all we've been talking about is COVID-19 protocols and that may leave you wondering if you're going to have a great experience at BW. Being prepared to protect your health is very important, but these precautions also allow you to make the most of your BW experience. We don't want you to miss out on anything. So, I asked our Student Body President, Aru Gupta, to show you around and let you see what campus looks like, how to follow COVID-19 protocols and how you can help keep BW healthy. Click on the link below to see her video.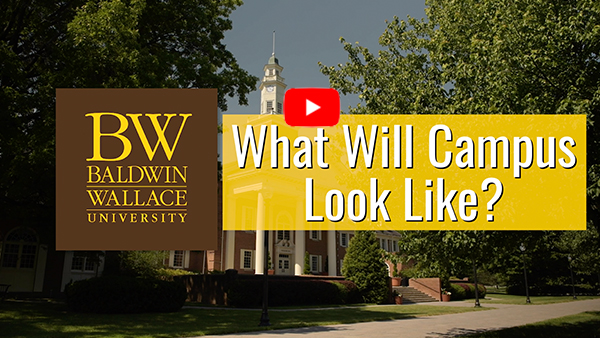 With Gratitude
Throughout the many difficulties of the pandemic, I've been amazed by the incredible resilience and talents of our students, faculty and staff. We could not do any of this without you, including our extended BW Yellow Jacket community. I'm grateful for your commitment to our mission and to ensuring that Baldwin Wallace University will continue to provide the extraordinary experience that every student deserves.
See you soon,
Bob Helmer
President
Baldwin Wallace University