Campus Communication: Important information for student arrival on campus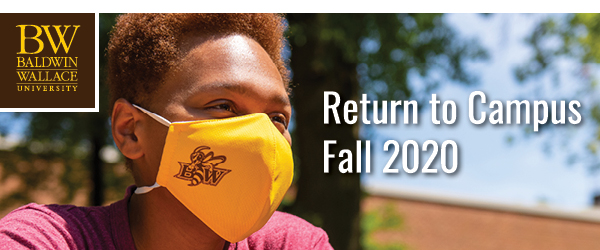 To all students and families,
I am writing to you today to welcome you to campus and provide an update on how BW will be prepared for your return. We are looking forward to seeing you on campus for the fall semester and are focused on providing a healthy, safe and secure environment for everyone. BW continues to monitor local and national health guidance and has brought together a campus-wide team with input from health professionals to develop protocols for your campus.
Even more important than the physical measures we are taking for your safety, however, is the need for all of us to be willing to adhere to new safety requirements. These include wearing masks while indoors and in the company of others, maintaining social distancing, adhering to guidance on group gatherings and living on campus, and following lab, practice room and athletic protocols.
All students, faculty and staff will be called upon to demonstrate care for each other through these safety measures. We will all need to enforce safety measures as we gather together for this academic year.
Arriving on Campus
To get ready for your arrival, included below are details of our preparations for your safety in classrooms, residence halls, dining areas, offices, recreation facilities, studios and performance spaces as well as information about remote learning.
As a reminder, classes resume on August 24. Labor Day and previously scheduled Fall Break will now be instructional days. The last week of classes and week of finals, November 30 through December 11, will be completed remotely. View the fall academic calendar.
All students are asked to come to campus prepared with Personal Protective Equipment (PPE):
3-5 reusable/washable cloth face masks – All students will be required to wear masks in all public areas of campus. In addition, all students will be provided 2 washable cloth masks in the first days on campus.
Personal digital thermometer (mercury thermometers will not be permitted due to safety concerns) All students will be required to complete a daily online check-in with temperature before attending class or visiting dining halls.
Personal use hand sanitizer – All students will want to have access to their own hand sanitizer in addition to stations available throughout campus.
Supplemental surface sanitizing supplies – All students may want to supplement cleaning supplies that will be available in classrooms, common areas and recreation areas with personal surface sanitizing products.
In the event that you need health services, you will be able to access a full range of health and wellness services through the BW Health Center and Recreation Center. Resources for COVID-19 testing and notifications will be available at the BW Health Center and local health partners.
Residence hall move-in will be phased to allow safe access to residence halls. All first-year students are asked to choose a move-in date and time between August 19 - August 20. Week of Welcome On-Campus Orientation will kick off the evening of Thursday, August 20. All returning students are asked to choose a move-in date and time between August 21 - August 23. Additional instructions and how to access the move-in scheduler were emailed to all residential students. Residential and early arrival students should check their email for move-in instructions. This year, residence halls will be "de-densified" with many students in singles and no more than two students per room.
Academics and Technology
BW is committed to high-quality, personalized education that challenges and supports you on your path toward graduation. We plan for the majority of undergraduate classes to be held in person, taught by BW's dedicated and expert faculty, in the same small class sizes that define a BW education.
Variety of course design. Most classroom locations have appropriate space to meet fully in person while maintaining 6-ft. distance and wearing masks. However, some classes will be divided into smaller groups with each group attending the course in-person one-day a week and via remote synchronous instruction the remainder of the week. All classes will employ blended instruction that includes in-person and synchronous remote instruction. Remote synchronous instruction means attending a live class remotely (such as from your dorm room, home or other location). Synchronous instruction will be interactive, meaning you will be participating in class activity. Your class schedule will reflect these changes.
Classroom technology. BW is investing in classroom technology to connect remote students and in-class students. Microphones and cameras are being installed. Twelve classrooms across campus have been upgraded as interactive remote instruction hubs for professors and students. Across campus Wi-Fi signal strength is being increased so that on the days you are participating in remote instruction, you will have the bandwidth and Wi-Fi connectivity needed to attend class.
Specialized spaces. Science labs, art studios, practice rooms and all other specialized spaces are being adjusted to give you the opportunity for hands-on experience while maintaining safety protocols.
BW Dining and Student Services
BW Dining facilities and menu have been adjusted in accordance with food service industry best practices focusing on the safety of both dining team members and students. Dining facilities will be available only to students. To manage the number of people served while adhering to social distancing guidelines, both eat-in and carry-out services will be available.
Self-service buffets will be replaced with individually portioned, attended stations and dining capacity will be modified to ensure physical distancing between tables. The menus have been revised with speed-of-service in mind, and most stations will remain cook-to-order with fixed menu selections offered at other stations.
We will continue to offer vegetarian, vegan, and gluten-free options and work with students who have specific dietary needs. As always, we will have healthy meal choices prepared with balanced nutrients and portion sizes in mind.
Campus Contact
Questions regarding specific academic programs may be directed to Stephen Stahl, Provost, at provost@bw.edu.
Questions regarding protocols in the Conservatory of Music may be directed to Charles Young, Associate Dean Conservatory.
Preparing You Well
Finally, we cannot wait to welcome you to campus next month and hope you are just as eager to arrive.
This is a lot of information; thank you for your patience as we work to prepare you. We'll have more to share as we prepare for this fall, and some of it may change as the situation with the pandemic progresses this summer. However, we are making these changes to deliver the extraordinary BW experience you expect. That means we will prioritize your health and safety both on and off campus while providing the highest-quality education possible and serving our community as well.
Please continue to check your email for more information from us this summer and also regularly visit bw.edu/fall2020 to stay up to date on the latest developments concerning your arrival on campus. Again, if you have any questions, please refer to the campus contacts above.
For now, we hope that you and your loved ones are safe and well. Again, we very much appreciate your patience as we work through details of the fall semester.
Go Jackets!
Bob Helmer
President
Baldwin Wallace University