Share
OVERVIEW
Today's ever-changing business environment needs idea-generators. People who are strategic thinkers with a creative mindset and passion for problem solving.
BW's major in innovation & entrepreneurship can help you develop the skills to succeed.
It is designed as a second major to complement a primary program of study-humanities, business, music and social, physical and health sciences. You'll learn how to infuse innovation and entrepreneurship into a career field that excites you.
The end result is that you'll graduate with a double major and an impressive skill set.
Coursework is comprehensive. It includes economics, accounting, marketing, management, communications and business plan development. Experiential learning supplements your studies with real-world opportunities that include internships, field studies and more.
BW's 20-minute proximity to Cleveland puts you within easy access to corporations, small- and mid-sized businesses, government agencies and nonprofit organizations.
Faculty are scholars and practitioners. You'll learn from professors who care about your success and share insights that are diverse and career relevant.
Business Grads Get Jobs
86 percent of BW business majors are employed in their field of choice or attending graduate school within 12 months of graduation.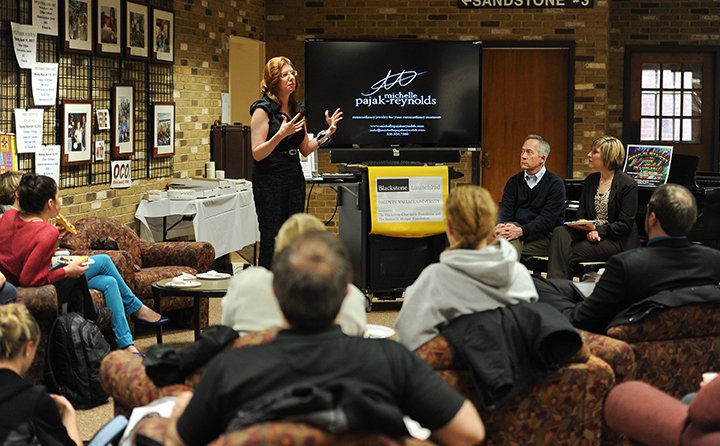 Students have opportunities to learn from BW alumni who are successful entrepreneurs.  Michelle Pajak-Reynolds '12 discusses her acclaimed couture jewlery business with a group of students. 
CAREER OPPORTUNITIES
Whether it's for an existing organization or a new business venture, there is high demand for creative, innovative and entrepreneurial thinkers. Career areas include:
Business leadership
Entrepreneurial marketing
New product/business development
Strategic and business planner
Entrepreneurship
Business and cultural change agents
CURRICULUM
The innovation & entrepreneurship major is only offered as an additional major to a primary major. It builds upon insights and skills developed in the primary major.
You'll learn to translate knowledge culled from your primary major into practical innovation and entrepreneurship opportunities.
A capstone course synthesizes your studies and hones critical thinking, problem solving and communication skills.
The innovation & entrepreneurship major prepares students to:
Recall business terms, concepts, and principles and effectively communicate these, through both oral and written means, using the language of business
Utilize critical thinking skills to analyze information and produce improved business decisions and generate effective recommendations for better course of action or opportunity for improvement
Demonstrate relevant application of business knowledge
Exhibit high standards of ethical awareness and conduct and recognize ethical issues businesses/people face in today's world
Demonstrate an in-depth understanding of the content areas and tools necessary for an innovation & entrepreneurship professional
Analyze entrepreneurial decisions using tools, techniques, and theory commonly used by innovation & entrepreneurship professionals
STUDENT EXPERIENCES
BW provides a supportive, professional environment. The average class size is 19 students, which allows for individual attention and faculty mentoring.
Field studies, personal interviews with successful entrepreneurs and consultant opportunities enrich the program. Combined with our capstone project seminar, these experiences give you a powerful career portfolio you can use to impress potential employers, venture capitalists or graduate school personnel. 
Center for Innovation and Growth (CIG)
Infusing the spirit of innovation and entrepreneurship throughout campus and Northeast Ohio is the crux of this signature Center. The Center for Innovation & Growth (CIG) offers outstanding professional networking and hands-on learning opportunities to students of every major. The CIG Student Fellows program places students alongside business leaders, innovators and entrepreneurs. Through CIG Growth Consulting Projects, students assist CIG partners and other companies, nonprofits and government agencies in achieving growth through innovation.
Launchnet
Open to students of every major, LaunchNET is an innovative program that presents entrepreneurship as a viable career path and offers students concrete tools and guidance to transform ideas into thriving businesses. LaunchNET offers students access to an extensive network of mentors, experts and services.
View all business student organizations and experiential learning programs.
ALUMNI SUCCESS
At Baldwin Wallace, you'll experience personal and professional growth in a supportive community that challenges and inspires you to succeed.
Baldwin Wallace has long championed the success of its students. Evidence of this can be seen in the extraordinary achievements of its alumni spread throughout the United States and the world.
Among recent accolades, 92 percent of graduates from the Class of 2014 reported being in rewarding jobs or in graduate school studies within six months after graduation.
Full-Time Faculty
Adjunct Faculty