Kerry Bebie, Ph.D., Program Coordinator
(440) 826-3746
Share
OVERVIEW
Make a positive impact in helping today's youth achieve fitness and wellness. A major in health and physical education offers rewarding career opportunities.
BW's program combines comprehensive coursework, theoretical study and practical experiences. You'll gain skills for effectively planning, implementing and evaluating physical education programs.
This major is designed for individuals interested in teaching health and physical education. Through BW's outstanding teacher education program, you can qualify for a multi-age (P-12) licensure in health and physical education. Graduates of the program gain the knowledge and skills to effectively teach in today's ever-changing education environment.
The broad-based curriculum includes courses in education, anatomy and physiology, exercise physiology, nutrition, human sexuality, community health, first aid and more.
Small class sizes, personalized attention and mentoring are at the core of the health and physical education major. You'll learn from faculty with decades of teaching experience who bring real-world perspectives into the classroom.
Experiential learning bridges classroom study with real-world opportunities. BW's 20-minute proximity to Cleveland puts you within easy access to field experiences, community outreach initiatives and more.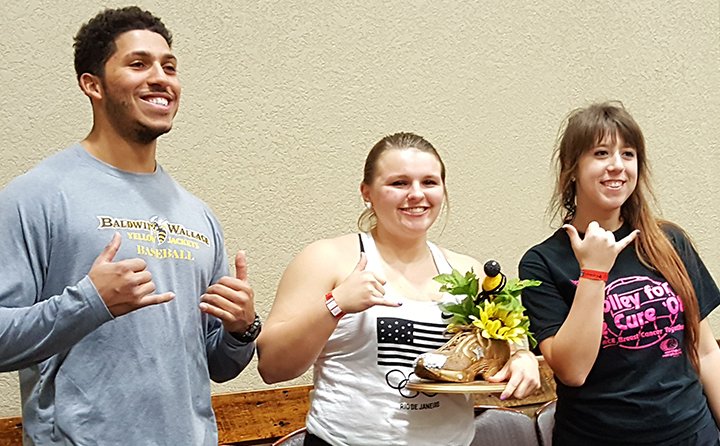 Participating in professional organizations enables you to distinguish yourself early in your career. BW students won the Golden Shoe Award for the third year in a row at the 2016 Ohio Association for Health, Physical Education, Recreation, and Dance (OAHPERD) College Cup Competition.
CURRICULUM
Offered as a major, health and physical education is a comprehensive program. It is affiliated with BW's School of Education for multi-age (P-12) licensure.
The faculty in the School of Health, Physical Education and Sport Sciences along with the School of Education are committed to a strong performance-based program of teacher education. Individuals meet a rigorous set of standards on their way to license eligibility. As a result, they perform very well on the licensure exam requirements set by the State of Ohio.
Students are encouraged to supplement their licensure with a secondary teaching area. Students interested in coaching are encouraged to complete the athletic coaching minor.
Baldwin Wallace is accredited by The Higher Learning Commission (HLC), a commission of the North Central Association. Undergraduate programs in elementary, secondary and all-grades education are accredited by the National Council for Accreditation of Teacher Education (NCATE) and approved by the State of Ohio Department of Education and the National Association for Sport and Physical Education.
The health and physical education major prepares students to:
Obtain a multi-age license to teach health and physical education by successfully completing this major, the applicable requirements for licensure as outlined by the School of Education and the state licensure exams
Demonstrate the knowledge and skills required for the planning, implementation, and evaluation of health and physical education programs for learners ages three through twenty-one and pre-kindergarten through grade twelve
STUDENT EXPERIENCES
Hands-on learning is an integral part of health and physical education. Nearly all education courses and many physical education courses have planned field experiences.
Experiential learning bridges classroom study with real-world opportunities. You can enhance your studies through internships, co-curricular activities and other learning opportunities that include:
STUDENT CLUBS & ORGANIZATIONS
Teaching Together
This organization promotes the professional teacher education interests of traditional and non-traditional students on campus. It keeps members informed of educational activities on and off campus and of up-to-date course and state requirements. At the annual Honors Ceremony in the spring, recognitions include:
Bonnie Raye Graduate Scholarship (in honor Bonnie Raye, who taught at BW and was the women's basketball coach, 1980-89).
Dr. Lee J. Tressel Scholarship (in honor of Dr. Lee Tressel '48, who taught and was BW's football coach, 1957-80).
Dave R. & June Demmerle Scholarship (in honor of Dr. Dave Demmerle, who taught for 36 years and coached football/track and field).
Hower-Stover Award (in honor of Dr. Marjorie Hower, who was a professor at BW, 1947-80, and Myrta Stover, who coached and taught at BW, 1943-68).
ALUMNI SUCCESS
At Baldwin Wallace, you'll experience personal and professional growth in a supportive community that challenges and inspires you to succeed.
Recent BW Health and Physical Education majors are finding their success at:
Josiah Holt '15, health & physical education, is a member of the Cleveland Gladiators Arena Football Team.
Brian Ellis '12, health & physical education, is strength and conditioning assistant for the San Diego Chargers.
Taylor Roth '11, health & physical education, is assistant basketball coach at Alfred University.
Kerry A. Bebie
Assistant Professor
Ph.D., The University of Akron
Jaimy M. Dyer
Professor
Ph.D., The Ohio State University
Megan Frank
Assistant Professor
Ph.D., Kent State University
Karyn Gentile
Program Director for Athletic Training Program
Associate Professor
Assistant Athletic Trainer
M.S., Syracuse University
Erin Sweeney Hutzelman
Assistant Professor
M.Ed., George Mason University
Wendy Hyde
Assistant Professor
M.Ed., Springfield College
Amy Jo Sutterluety
Associate Dean, Health and Physical Education
Professor
Ph.D., The Ohio State University
Elizabeth Walters
Assistant Professor
M.S., Springfield College